Were you curious what Pittsburgh Steelers wide receiver Antonio Brown was doing during Super Bowl weekend? Of course you were. It's been a whole day since we've posted any Brown-related news.
It turns out the All-Pro receiver was hanging out with San Francisco 49ers safety Adrian Colbert on Saturday. Colbert posted the following photo on Instagram.
That led to 49ers wide receiver Marquise Goodwin leaving the following comment to the post.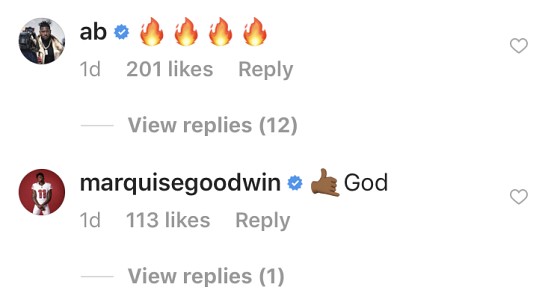 Goodwin was
asked this week
how he felt about the hype surrounding the possibility of Brown heading to the Bay Area.
"I just take it for what it is," Goodwin responded. "I don't make anything bigger or smaller than what it is. The media, they tend to hype things up sometimes and make it more than what it is."
Goodwin added, "It would be interesting to see if he ever were to come on our team. It's not something I spend a lot of time thinking over. I see me as the AB of our team. But I don't know. We'll see."
Brown, of course, would prefer a change of scenery after nine seasons in Pittsburgh and has suggested a desire to play for Kyle Shanahan and the 49ers.
The Steelers, meanwhile, have publicly declared that they are open to the possibility of trading the disgruntled receiver.
H/t to
Draft Diamonds
for the find.
You May Also Enjoy...