Videos are auto-populated by an affiliate. This site has no control over the videos that appear above.
With every loss this season, the Cleveland Browns get a step closer to locking up the top overall selection in the 2017 NFL Draft. It is hard to believe that the San Francisco 49ers have lost 10 consecutive games – a franchise record – and still may not get the top overall pick. The 49ers currently sit at 1-10 while the Browns sit at 0-12. Meanwhile, the Chicago Bears (2-9) are sitting at the number four spot thanks to a stronger strength of schedule than the Jacksonville Jaguars (2-9).
According to
ESPN's Football Power Index
, Sunday's game between the 49ers and Bears will have a major impact on the chances of obtaining the number two overall selection in the draft. A 49ers loss will increase their chance of getting a top two selection to 79 percent versus 6 percent for the Bears. A Bears loss will increase their chance of getting a top two selection to 49 percent versus 30 percent for the 49ers.
Currently, Chicago has a weaker strength of schedule than San Francisco, which is the determining factor should any ties with records occur.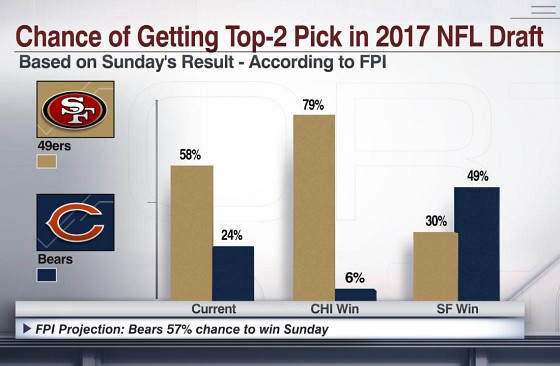 The Bears are currently 2.5-point favorites in Sunday's matchup with the visiting 49ers. That may fluctuate as the game nears. According to
ESPN
, Chicago has a 57 percent chance of beating San Francisco.
Below is the current draft order, based on playoff seeding (21-32), record, and strength of schedule (SOS), for all 32 first-round spots
if the season ended today
. Of course, the order of playoff teams would eventually be determined by the completed playoff picture.
| | Team | Record | SOS |
| --- | --- | --- | --- |
| 1 | Cleveland Browns | 0-12 | .574 |
| 2 | San Francisco 49ers | 1-10 | .573 |
| 3 | Jacksonville Jaguars | 2-9 | .533 |
| 4 | Chicago Bears | 2-9 | .541 |
| 5 | New York Jets | 3-8 | .504 |
| 6 | Cincinnati Bengals | 3-7-1 | .561 |
| 7 | Tennessee Titans (from Rams) | 4-7 | .488 |
| 8 | Carolina Panthers | 4-7 | .523 |
| 9 | Arizona Cardinals | 4-6-1 | .486 |
| 10 | Indianapolis Colts | 5-6 | .486 |
| 11 | Green Bay Packers | 5-6 | .529 |
| 12 | Cleveland Browns (from Eagles) | 5-6 | .533 |
| 13 | New Orleans Saints | 5-6 | .550 |
| 14 | San Diego Chargers | 5-6 | .559 |
| 15 | Tennessee Titans | 6-6 | .443 |
| 16 | Buffalo Bills | 6-5 | .432 |
| 17 | Philadelphia Eagles (from Vikings) | 6-5 | .486 |
| 18 | Tampa Bay Buccaneers | 6-5 | .491 |
| 19 | Pittsburgh Steelers | 6-5 | .516 |
| 20 | Denver Broncos | 7-4 | .532 |
| 21 | Washington Redskins | 6-4-1 | -- |
| 22 | Miami Dolphins | 7-4 | -- |
| 23 | New York Giants | 8-3 | -- |
| 24 | Kansas City Chiefs | 8-3 | -- |
| 25 | Houston Texans | 6-5 | -- |
| 26 | Atlanta Falcons | 7-4 | -- |
| 27 | Baltimore Ravens | 6-5 | -- |
| 28 | Detroit Lions | 7-4 | -- |
| 29 | Seattle Seahawks | 7-3-1 | -- |
| 30 | Oakland Raiders | 9-2 | -- |
| 31 | New England Patriots | 9-2 | -- |
| 32 | Dallas Cowboys | 10-1 | -- |
* 21-32 based on projected playoff seeding, not record or strength of schedule
** Trades show the record of the origin team