Videos are auto-populated by an affiliate. This site has no control over the videos that appear above.
The evolution of football has always been intriguing. What's old, like a veer run, can get a fresh coat of polish and a place in 21st-century professional football playbook.
The elements and scheme of a play may remain the same, but players and positions are always in a state of metamorphosis. The days of a slow quarterback with little ability to rush have died a slow death. The fullback is almost non-existent in most offenses, and a shorter slot receiver running slant and choice routes is all the rage.
During the 1980s and 1990s, tight ends were lighter tackles who could catch. Today, tight ends have taken on a new look, and a new role as offenses spread out and push the ball vertically with higher frequency.
NFL head coaches and offensive coordinators seek a Y-receiver with DNA spliced with the size of a power forward, the leaping ability of a high jumper and the hands of an all-world wide receiver. Offensive coordinators want to challenge the middle of the field with a tight end who can out-jump a safety for a 50-50 ball, but who can deliver punishment to linebackers and consistently block an inside or outside zone run.
The San Francisco 49ers enter the 2018 season with two high-caliber tight ends ready to play a crucial role in Kyle Shanahan's offense.
Second-year player
George Kittle
, who finished with 43 catches last season, is competing with seven-year veteran Garrett Celek for the starting role. Ultimately, it doesn't matter who starts at Y-receiver; I am confident both men will see an equal amount of playing time but am unsure if Shanahan increases the role of his tight end in this year's offensive scheme.
Statistics show that Shanahan has not targeted his tight ends often in his passing attack.
Since becoming an offensive coordinator in 2008, Shanahan calls an average of 566.4 pass attempts per season, with approximately 110.9 throws directed at the tight end. Y-receivers in Shanahan's system average 73.3 catches per season and are involved in 19.6-percent of the passing game.
High or low deviations from the average, however, do not correlate to an increase in wins or overall success.
While calling the offense for Washington in 2010, Shanahan targeted his tight ends on 196 passes or about 32-percent of pass attempts. Tight end Chris Cooley had 77 catches, the most that any tight end tallied in a Shanahan offense. The attempts and catches were both high watermarks for Shanahan, but the team finished 6-10.
In 2016, when Shanahan's play calling led the Atlanta Falcons to the Super Bowl, tight end Jacob Tamme had 22 catches on 31 targets. Atlanta's tight ends only caught 57 passes on 82 targets in 2016.
There could be a multitude of reasons why Matt Ryan threw 82 times on 534 attempts to his Y-receiver or if Shanahan purposely directed a mere 15.2-percent of his offense to Tamme and the other tight ends. No matter; the strategy worked, as Falcon wide receivers saw 60-percent of Ryan's throws and the team nearly won the Super Bowl.
Last year, the 49er quarterbacks targeted tight ends 99 times on 607 pass attempts, or 16.3-percent of the time.
Indeed, the 49ers suffered a series of offensive woes. Both Brian Hoyer and C.J. Beathard struggled behind center, the offensive line was a patchwork quilt, and the team had an inconsistent run game.
There's nothing wrong with Shanahan using his wide receivers more than his tight ends. He's found mixed success in the NFL as his offense evolves and he discovers the right player to succeed in a specific role.
The 2018 NFL season marks the first for which Shanahan has two healthy, motivated and skilled tight ends, in addition to a backfield that can take a short swing pass upfield for a big play.
I have no doubt that Kittle and Celek want to be involved in more than 16-percent of the passing attack. This season, Shanahan needs to call more plays that have the Y-receiver as the first or second read in a progression. Throwing more to the Y forces the secondary to remain honest in its coverage on intermediate and longer routes.
Here are three plays that Shanahan can call to get the ball to his tight end.
Red Right Slot 26 Y-Shake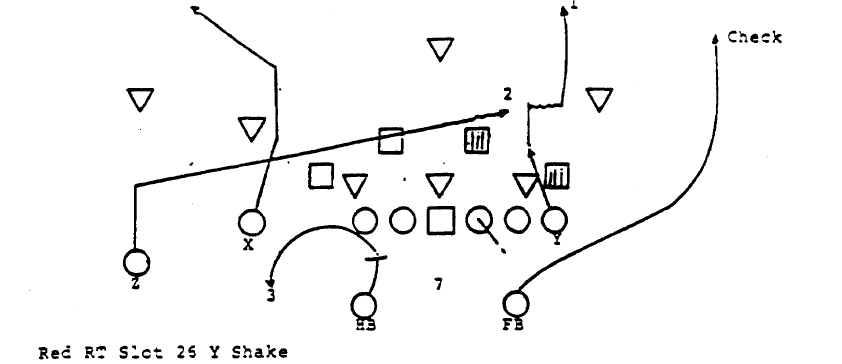 This is a play directly from Bill Walsh's 1985 playbook.
Jimmy Garoppolo lines up under center, with split backs. His Z and X receivers are to his left; the Z is running an under route, while the X releases inside and then runs a corner route. The Y-receiver, lined up next to the right tackle, runs a five-yard out route and turns upfield after a pump fake.
Garoppolo and his Y-receiver need to be in sync with one another and read the defense correctly, but if the linebacker sticks with the Z and Garoppolo has a blitz-free pocket, it allows a one-on-one matchup between the tight end and high safety.
Flex Right 200 Jet Dragon Lion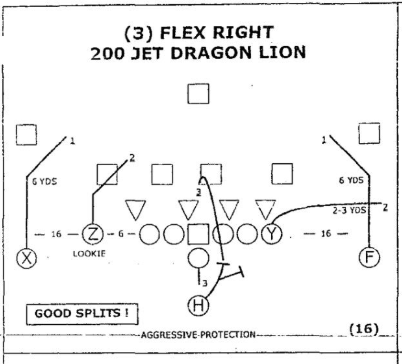 The 'Dragon-Lion' combination has been a staple play in the West Coast Offense for decades.
It's a slant-flat combination with the X and Z receivers running double slants (Lion) on the left of the formation. On the right side, the F receiver runs a slant, while the Y bolts from the line of scrimmage and runs immediately to the right flat (Dragon).
This play is effective against single-high safety, as the quarterback will look immediately to the slant-flat combination to complete the pass.
Brown Right Fox 2 X-Y Hook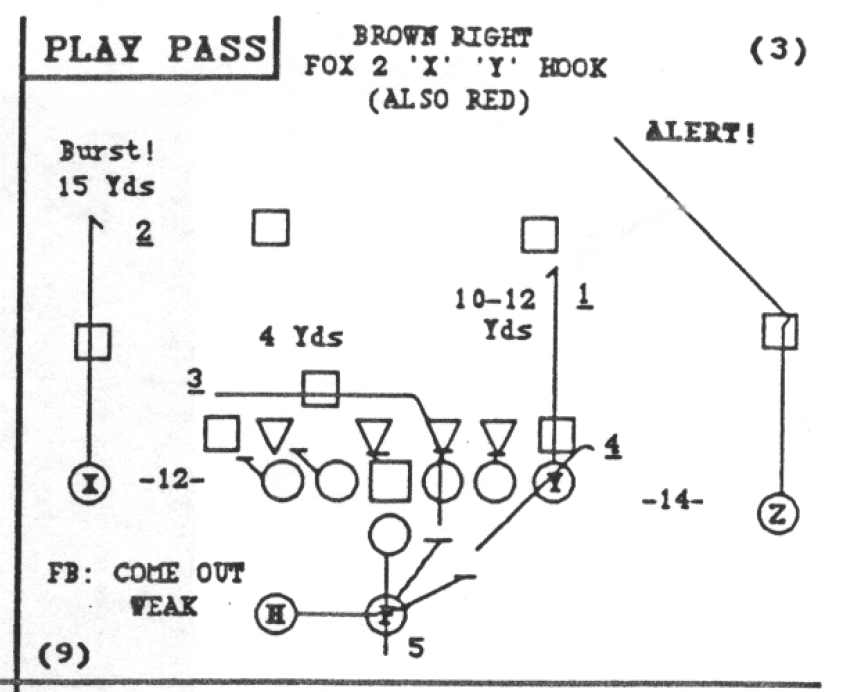 Hook routes are almost unbeatable, especially when throwing to a big target. In this play, Garoppolo is under center. His fullback is directly behind him, with the halfback lined up behind left tackle.
The X-receiver, lined up on the left, runs a 10-12 yard hook route. The Z-receiver, lined up to the right, runs seven steps and slants toward the safety. The Y-receiver runs a 10-12 yard hook route, and he's the primary read in the progression.
This is an ideal play to run against a Cover 2 defense. As the Z-receiver runs the route stem, the defensive back should let him go and allow the safety to cover the route. This opens up the field for the Y-receiver's hook route. If the safety drives on the hook route, the Z-receiver is wide open to walk into the end zone.
Written by:

Bret Rumbeck has been writing about the 49ers since 2017 for 49ers Webzone and 49ers Hub. He is a Turlock, CA native, and has worked for two members of the US House of Representatives and one US Senator. When not breaking down game film, Bret spends his time seeking out various forms of heavy metal. Feel free to follow him or direct inquiries to @brumbeck.