Audrey Rose Walker is a living, breathing miracle. You see, Audrey wasn't supposed to be inspiring people, but she's doing so everyday. She wasn't supposed to be a walking example of courage, but here she is. In fact, Audrey wasn't even supposed to survive her birth, but today she's an amazing 9-year old girl.
When Jim and Heather Walker went to get an initial ultrasound on their expected baby, they were given news that no loving parents want or deserve to hear. Their doctor's informed them that the baby would be born dead or, if lucky, come out blue and need immediate life-saving surgery. Against all odds, Audrey survived her birth, and came out pink and crying. All was not well however, as Audrey still faced significant challenges with her health and overall survival.
Audrey was born with severe heart disease and Bilateral Anophthalmia (the absence of eyeballs). The Walker's were told that Audrey would die before the age of two if surgeries didn't work. In his research, Audrey's father Jim came across Dr. Frank Hanley who was 30 minutes away at Stanford's Lucille Packard's Children's hospital. Dr. Hanley had developed a procedure called
Unifocalization
which he used on Audrey in order to save her life. In this procedure, misdirected blood vessels are rerouted into a single vessel (or into the pulmonary artery if it's present), which is then attached to the right ventricle of the heart through a conduit called a homograft. This restores the normal circulation from the lungs to the heart. After that, the hole in the ventricle wall is repaired. This type of surgery is very complex, can take up to 10 hours, and generally keeps the patient in the hospital for weeks. Overall, Audrey endured three open heart surgeries, several heart catheterizations, and other associated procedures. She also came close to dying after her throat closed in the hospital, but was saved by Dr. Peter Koltai who, miraculously, just happened to be walking by.
Despite her early trials, Audrey persevered and was talking at seven months old. By the time she was 17 months, she was not only singing, but was able to belt out complete songs.
Audrey's courage is an inspiration to all she comes across, and she's developed a strong bond to so many people throughout her life because of it. One special bond just happens to be with her favorite football team, the San Francisco 49ers. Audrey belongs to
Camp Taylor
, which is a free, medically supervised camp for Children with heart disease. The camp asked Audrey to go on stage with Niner's quarterback Colin Kaepernick at his 2nd Annual 'Against All Odds' Golf Tournament. With no idea of what was going to happen, Audrey took the stage and wowed the crowd and Colin with her humor and personality. She even asked Kaepernick if he would "marry her," which was a touching moment that brought smiles to all involved.
Audrey has also used her singing ability to touch lives, as she's sung the National Anthem at various events including Antoine Bethea's Celebrity Softball game. Bethea had advertised that he was looking for a singer on Twitter, and Audrey's father submitted her name. The family was very thankful she was chosen for the event.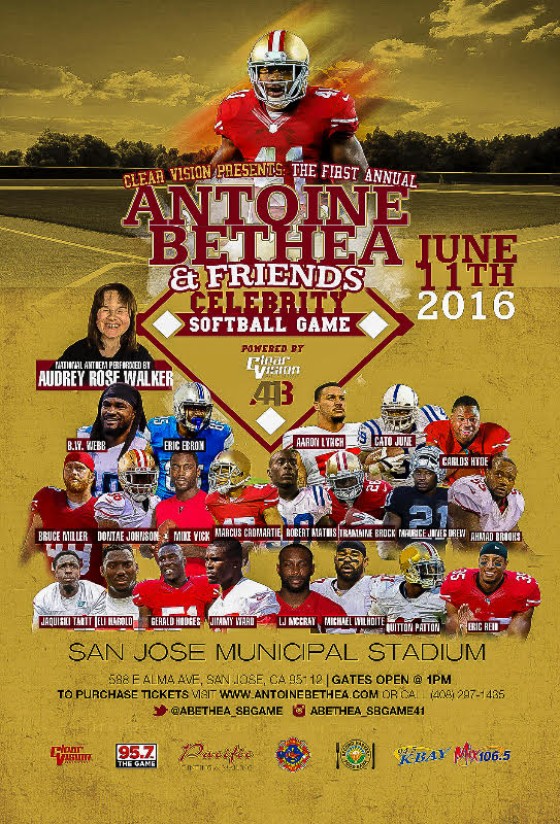 Despite her making the most of life, Audrey is still faced with daily challenges no one, especially a young child, should have to endure. Her blindness makes daily life difficult, as she has a hard time getting around, often hurting herself in the process. She is totally dependent on other people for her safety and security and it's taken an emotional toll on her. Through all of this, Audrey's dad says she never complains and she has a "wonderful, positive personality." She is constantly thinking about other people, and even asked to be a Make A Wish worker so she could help other kids be happy. Make a Wish motivated Audrey to do a little something for herself as well, and she will meet the 49ers on October 2nd!
While Audrey will never be able to see, there are still ways she can enhance her daily experiences, and that's where the caring and compassion of the public comes in. Please take a look at Audrey's "Go Fund Me" page, and read through what her father has written about her (it definitely moved me). You can tell she comes from a loving, supportive family, but could also use some items to help with her day-to-day.
or
It's people like Audrey that make this world all the more special, and there's no doubt she's here to serve a purpose. Let's make her story of struggle and triumph as well known as possible, as she's truly an inspiration.
Al Sacco has been covering the 49ers since 2013, and has had his work used by national outlets such as ESPN and USA TODAY. If you'd like to reach Al with a media request, please contact him via Twitter @AlSacco49