It was the day before the 2015 NFL Draft and the second day of the San Francisco 49ers' three-day minicamp. Looking around the locker room following the team's practice, you could see some of the scattered local media interviewing a number of the players, trying to find stories to write about for their daily columns.
Distracted, the eyes of some of those players looked over toward another area of the room, the same area that housed the locker of a rookie. The player himself, who was hidden within a throng of reporters, could not be seen. Just the crowd that he had unintentionally produced was visible — along with the lights from the various recording devices that the reporters were holding up. Somewhere within the swam of bodies was one of the team's most intriguing stories. With the draft still a day away, it wasn't some high profile first-round selection. The player in the middle of the media frenzy was none other than Jarryd Hayne, the 27-year-old former rugby superstar taking part in his first NFL mini-camp.
While his signing was barely a blip among the national media here in the states, it was the crowd around Hayne that was the most noticeable in the large and luxurious locker room. It wasn't local media or even the national media that was surrounding Hayne that day, asking him numerous questions and hanging on his every word. It was the Australian media. Hayne's story may not be big news here, but in Australia, where Hayne's popularity is comparable to a
Tom Brady
or LeBron James, it is worthy of a page one headline.
Hayne leaving the National Rugby League (NRL) for a shot in the NFL is like LeBron James announcing that he would be leaving the riches of the NBA behind to pursue his dream of playing in the Canadian Football League. Maybe not the exact equivalent, but you get the idea. It was a decision that shocked every fan of the NRL and dominated the headlines in Australia. Why would a player like Hayne, who is considered by some as the best ever to play the sport and is still in his prime, decide to leave fame and fortune behind for a risk in a game that he has never played professionally?
Growing up in Australia
In 1988, Jarryd Hayne was born in Minto, a suburb of Sydney, which is the largest city in Australian. While his childhood was anything but comfortable, he was born into an athletic family. His Australian mother, Jodie Hayne, was a hurdler back in the day. His Fijian father was Manoa Thompson, best known for playing professional rugby for South Sydney, Western Suburbs and the Auckland Warriors while also representing the Fijian national rugby league team.
Having parents who were from two different ethnicities made life more difficult for a young Jarryd and his mother while the family lived in Airds, another suburb of Sydney. "Because I was a young mother and had a half-caste child, people would look down at me," Jodie said while telling the story. "Even the Islanders would give me filthy look. People would ask me if Jarryd was adopted. I didn't care. As long as I was there for him, that was my thing," she continued.
"Half-caste" is an offensive term used to identify a person whose parents are of difference races.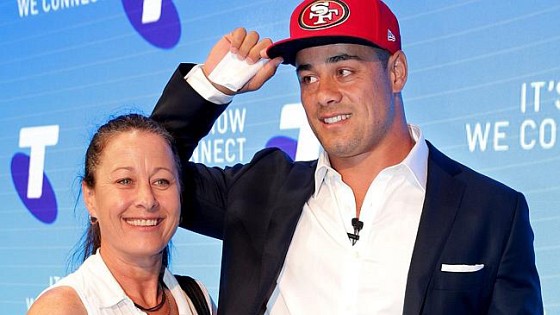 Jarryd's father wasn't around for much of his life as he chased his own dream of a rugby career. Jarryd took the last name of his mother, who would ride her bike to the train station at 5 AM each morning on her way to work in the city to support him and his two younger sisters as they lived in the local housing commission.
It was this dedication by Jarryd's mother that made her the most profound influence in his life. Her hard work and self-sacrifice gave Jarryd a future. "Mum's my rock. If it wasn't for mum I'd have nothing," Jarryd would later say about his mother. He was so appreciative that throughout his youth, Jarryd promised to one day buy his mother a house. It was one of his dreams. When he became a star rugby player many years later, he would fulfill that promise.
Playing in the National Rugby League
With athletics in his genes, Hayne followed in his mother's footsteps in the years to come. He was a national schoolboys champion in the 100-metre hurdles — reportedly without even training. However, it was rugby where his talents would be displayed to the world.
Being an exceptional talent with extraordinary physical gifts, Hayne dropped out of high school to pursue his rugby career. On May 19, 2006, at the age of 18, he made his NRL début with the Parramatta Eels, the rugby club that he would end up spending his entire career with. He would go on to score 17 tries in 16 games that season. That included a personal best of four tries against the Newcastle Knights in a 46-12 win. It was an opening season so impressive that he won the Dally M Rookie of the Year award. His career would result in numerous awards and recognition, including the Dally M Medal in 2009 and 2014 as the NRL's player of the year.
In 2009, Hayne was named the best rugby league player in the world by winning the Rugby League International Federation's International Player of the Year award. It was a season that many considered to be one of the greatest individual efforts in rugby league history.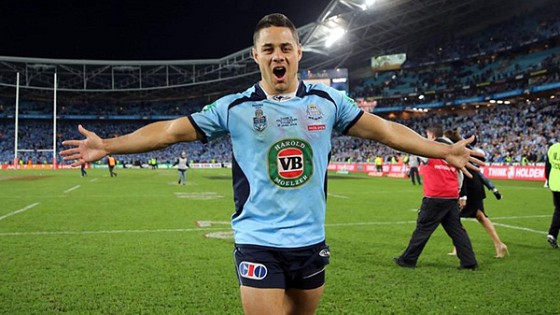 Hayne would earn many nicknames over his career, including the "Hayne Plane," which was given to him because of the celebratory spreading of his arms like the wings of a airplane after a score. It was a celebration that would be mimicked by younger fans across Australia.
Hayne's father would come back into his life after returning from his overseas rugby career. Upon his return, Manoa Thompson would became a solid influence in his life. Now married to another woman with the couple having three children of their own, Thompson was very much following his own path. That did not stop Hayne and his father from remaining close. Thompson followed his son's stellar rugby career closely and was quick to defend him when critics had something negative to say.
Life was good for Hayne. Then two separate incidents in the coming years would thrust him into the headlines — this time, trying to cast a shadow on his legacy.
In March of 2008, Hayne made the news when he and several NRL players were reportedly involved in a brawl inside a nightclub at 4 AM in Kings Cross, a notorious area of Sydney. That fight led to a man firing shots at Hayne from the back of a taxi. The incident would lead Hayne to avoid the Kings Cross area for several years.
Following that traumatic 2008 incident, Hayne would spend time with the religious Fiji World Cup team, leading Hayne to embrace Christianity. His mother Jodie would later say that the Kings Cross incident was a major influence in his newfound beliefs. Hayne's faith in God would lead him to become an active participant in church and open up opportunities for him to help in numerous communities. When asked how important his beliefs were to him, Hayne answered, "We sort of shy away from religion and base it more on on a relationship with God.
"Religion is something you have to do. A relationship is something you want to do.
"For me, a relationship with God is everything."
Armed with his newfound faith, Hayne was doing well at avoiding trouble and helping others where he could. That is, until trouble once again reared its ugly head in 2011. It would be another incident that would thrust Hayne back into the headlines.
Three years after the 2008 incident, Hayne would return to Kings Cross. This time, it was the birthday of a teammate that would bring him to a nightclub that sat only a short distance from the locale of the 2008 incident. According to a statement by Hayne, a patron at the nightclub was taunting him about his recent head-butting incidents in the NRL. The patron then attempted to head-butt him and Hayne retaliated in self-defense. The incident did not end well for the attacker, who ended up leaving the nightclub via ambulance to the nearby St. Vincent's hospital. The patron had said that it was Hayne who had actually started the fight, but his story was refuted by both Hayne and the owner of the nightclub.
Hayne didn't let this latest incident deter him and after some time in the headlines, he moved forward with his NRL career which he thrived in for many years to come. However, Hayne's love for sports was not limited to rugby. He would try anything. Hayne got into numerous other sports like basketball and tennis, but there was one sport that he could not get out of his mind. One sport that would continually call to him.
Following His Dream
The year was now 2014 and, at the age of 26, Hayne was in his prime with many years and many riches still ahead in his rugby career. He was a household name with legions of kids looking to him as a role model. Yet, even with all of that, there was still something missing in his life.
Four years earlier, a friend had introduced him to American football and he was more than intrigued. That intrigue would grow into a passion that would constantly call to him. He fell in love with the sport and knew in his heart that he wanted to be a part of it. Fear of the unknown and taking too big a leap outside of his comfort zone would keep him in the NRL. Later, he met former Green Bay Packers running back Ryan Grant, and that sparked something inside of him that would lead him to give the leap some serious consideration. Years later, he would shock the rugby community with his unexpected change of heart.
Hayne had decided to leave his comfortable life in the NRL for a chance in the National Football League. It was a decision that, at the time, seemed absurd and rash to everyone that did not know him.
When he informed his family that he was leaving for the United States to pursue his dream, his mother was as supportive as she had been his whole life. Not everyone was as supportive as his mother. His youngest brother seemed to be the most concerned about Hayne being so far away.
"I'm obviously not going to be around the majority of the time to watch them grow up. My little brother was crying. He was upset and then I kinda had to tell him that when they come visit me they'll get to go to Disneyland and he was happy about that. I guess now they are excited and they are pumped," Hayne said jokingly of the situation.
On October 15, 2014, Hayne announced his decision to the public via a press conference. The announcement was very tough for him as he sat in front of the media with tears flowing down his face, calling it the hardest decision that he has ever had to make in his life. Overwhelmed with emotion, Hayne constantly paused throughout his press conference as he lowered his head and fought back his tears. "This isn't going to be an easy transition. I'm aware of that. That's why it's taken so long to decide," he told the media.
"I was probably about to become the highest paid player in rugby league but I'm a kid from Minto," Hayne said as he once again broke down in tears. "My whole dream of being a professional athlete was to buy my mum a house and I did that. Everything else is a bonus."
Hayne had the following to say in
a letter that he wrote
to the Blue and Gold Army, a name used to describe the fans of the Parramatta Eels.
It's always been a dream of mine to play in the NFL, and at my age, this is my one and only chance at having a crack at playing there.

I'm excited about the potential opportunities that lie ahead. I've known the deadline has been looming for me to make this call, and I believe the right time is now.

I'm so passionate about the challenge that lies ahead for me, not only as an athlete but more so as a person. It's the hardest decision I have ever had to make in my life. I'm leaving my teammates, friends, and most importantly my family; but for me to grow as an athlete and a person I feel this is the right step to take.
Hayne had already started to work hard to learn about the foreign sport that was calling to him. He had been training to prepare himself both mentally and physically for the difficult journey he was about to embark on. He was even an active participant in fantasy football, so many of the names in the league were already familiar to him.
"I had all the power as a rugby league player. I had all the money but for me, that's not what I wanted. I wanted to challenge myself. I wanted to push myself. I wanted to take myself to places I had never been before," Hayne would say in a later interview.
Like his mother, Hayne's father was also very supportive of his decision. "This NFL thing has been eating away at him for a while now. Jarryd loves the NFL and wants a crack at it. The first time he went to America, the NFL tickled him. The most recent time he went over there I think it lit the fuse in his head," said Thompson.
Life in the NFL
Hayne had toured the Seattle Seahawks' facilities prior to his October press conference. He would do so again in December. However, the Seahawks were not the only team showing interest in Hayne. The Lions were among those showing interest as well, with Hayne saying that he was "so close" to signing with Detroit. There was one other team name that would emerge after hosting Hayne for a visit — the San Francisco 49ers. During his December visit with the team, Hayne got to meet then defensive line coach Jim Tomsula, who during his nine-year run in NFL Europe had worked extensively with players who had very little experience playing American football.
Another player, defensive lineman Lawrence Okoye, who was the British record holder in the discus event and also had some rugby experience, had pointed toward Tomsula as one of the major influences in his decision to join the 49ers.
During the time when Hayne was making his decision, the 49ers were in a huge transition after parting ways with their head coach and most of his staff. San Francisco seemed like an unlikely landing spot for the former rugby superstar who had already been compared to Matt Forte of the Chicago Bears. After all, the favorite to acquire the unique talent was reportedly Detroit. Just hours before Hayne's announcement, an Australian newspaper, The Daily Telegraph, had confirmed that Hayne would choose Detroit.
That all changed just minutes before Hayne's March 2 announcement in front of what looked like every Australian media outlet in existence. The 49ers had unexpectedly jumped into the lead position and Hayne agreed to play for San Francisco. Hayne said that Tomsula became a major factor in his decision.
The journey had just began for Hayne, who prepared to leave Australia to join his new teammates in the United States for a series of OTAs and minicamps in Santa Clara. The transition was not easy for Hayne, who found himself in a foreign land and out of his element. The terminology of the game was vastly different and confusing. During his first three weeks with the 49ers, he would walk out of meetings and tell others, "I did not understand one word you said." That discomfort quickly vanished once he hit the field for practice. He says that it all just started to click.
While Hayne is listed as a running back on the roster, that position is going to be highly competitive. The team already has Carlos Hyde, Kendall Hunter, new addition Reggie Bush, and Mike Davis, a fourth-round selection in this year's draft. Hayne's best bet to make the team would be as a return man on special teams. His agent, Jack Bechta, noted that while Hayne had no background when it comes to American football, he could excel in punt return situations, which are not dissimilar from what he saw while playing rugby. "They're used to guys coming at them on the run, used to using their peripheral vision," he said. "In terms of being a ready-made punt returner, it's very, very natural."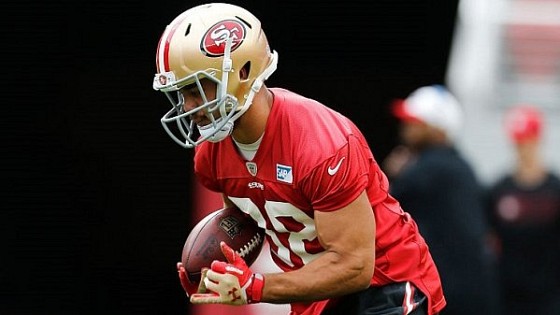 Hayne, who stands at 6-2 and weights in at 226 pounds, recently ran a 4.53 second 40-yard dash in a pro-day style workout in front of NFL scouts. That is a very similar number to new San Diego Chargers running back Melvin Gordon, the second running back taken in this year's draft. Gordon ran a 4.52 second 40-yard dash at the scouting combine.
Hayne went through his first NFL minicamps with a cyst on the arch of his left foot. Following the team's minicamps, Hayne returned to Australia and immediately had surgery to remove the cyst. He can now run without any pain and looks forward to getting back on the field when the 49ers start training camp.
Being away from home and all things familiar can be tough, but Hayne has had no trouble adapting to life in the United States. One thing that he missed was the coffee. Sure Americans love their coffee and we have droves of coffee houses on every corner, but Hayne says, "It's rubbish. It's so bad and they love it."
As far as other things he will miss about Australia, there is his "rock." His mother Jodie has supported him during this decision and countless others throughout his life. Before each rugby match, she would send a text message to her son. Following each match, win or lose, a phone call from her would follow. That is unlikely to change now that Hayne is in the NFL. In fact, his mother has already been hard at work planning trips to California to see her son play football. When asked about her feelings about her son joining the NFL, Jodie proudly said, "I am over the moon for him." She is even planning to bring about 20 people with her when she visits.
After spending some time at home, Hayne is currently back in Santa Clara preparing for training camp with a few rookies and some select veterans. The majority of the team will arrive next week. His transition from a rugby superstar to an NFL running back is far from complete. First, like so many before him, he must fight for a roster spot. While many would think that he would feel like an outsider, he has had no problem fitting in with his new teammates. He has quickly become friends with numerous players including quarterback Colin Kaepernick and running back Reggie Bush, who have both gone on record saying that they are impressed with the Australian expat.
While Hayne's departure from rugby has earned him some criticism and doubt in his homeland, there is a growing number of 49ers fans in Australia who, like most of the Niner Faithful here, are anxious to see if he can prove the naysayers wrong.
Oh, and if he ever finds himself back home with any of his new 49ers mates, he has already promised to buy them some "real coffee."
Poll
Will Jarryd Hayne make the final 49ers team roster?

Yes

No

231 votes