Videos are auto-populated by an affiliate. This site has no control over the videos that appear above.
Welcome to 'First and Goal', your guide to everything Niners. This week, we'll take a deeper look at new Defensive Coordinator Eric Mangini, as well as say goodbye to yet another Niner, Chris Borland. We'll also take a look at a few college players that might fit our team, given the recent subtractions. As always, be sure to check out our Hero of the Week.
Let's get to it!
The 'Mangenius' Speaks
For the most part, Eric Mangini has kept a low profile during his tenure as an offensive assistant, and later, as TE coach. Given the putrid output of our TE's last season, one can say he kept a very, very low profile. I for one am glad that Sparano is the new TE coach, with Mangini taking over a familiar spot as DC.
Public opinion about his coaching experience in the past ranges from good to bad. He put up respectable numbers at times as a DC for New England, though injuries and team turnover on the Patriots made it seem like he was less than stellar. The Jets thought enough of him to hire him as Head Coach, and he helped a bad team with a noodle-armed QB into the playoffs in his first year. Spygate definitely stained his tenure with the Jets, as did reports that he wasn't very good with people, coming off as arrogant. Hey, he was the youngest HC in NFL history. I'm not surprised he made mistakes along the way.
He rebounded from his firing from New Jersey B with a demotion to be the HC of the lowly Cleveland Browns. More reports about player mismanagement surfaced, as did the fact that it's the Browns, which lead to bad team records and player mutinies. Hey, no one thinks Belichik has a sunny disposition but Bill lucked out with
Tom Brady
and now everyone loves the guy. It's obvious that Belichik is smart, and he learned a lot over the years. We can only hope the same for Mangini.
So this brings us to today, with Mangini now having 21 years of NFL experience in various roles, and the guy is only 44. He's had the chance to soak up wisdom from Bill Parcells and Belichik, and later Fangio and Donatell. He's absolutely made mistakes, which can serve as great learning experiences for someone who doesn't give up. He's got a wealth of knowledge in that brain of his, and now at 44, I'm betting that he's mellowed out from his Jets and Browns days. No one is looking at him as a genius today, or as a team savior. All he's got to do is keep the ship steady.
In recent interviews, Mangini has stated that he's going to stick with what has worked for our Niners in the past. Expect him to continue the 3-4 and pattern-matching in the secondary. It's also been mentioned that we're going to get a little more aggressive with our blitz schemes and this is welcome news to my ear. He's gathering with the rest of our Defensive coaches in order to create the new playbook, collecting schemes and plays from our coaches that have worked in the past. We have a few defensive coaches with coordinator experience and this will hopefully create an impressive foundation for what we want to do.
In the end, Mangini has kept a low profile, even during his promotion to DC. I'm hoping this is a byproduct of learning from his past mistakes. With our 49ers, we're not looking for soundbites, we're only looking for results. See the full interview
here
.
But Chris, We hardly Knew Ya!
I won't spend much talking about Chris Borland, because it's already been talked about ad naseum and it's also depressing. Just when we thought the pain was over, a kick to the groin! I don't fault him for leaving, it's his life. Health is the most important thing to a person, just ask anyone who is suffering.
A lot has been made about what the 49ers will do in regards to his signing bonus. I don't think they're going to do anything at the moment. But I also do think that stricter language will be included in all future contracts with draft picks. Concussions are no longer a secret. If players choose to retire in the future, you can bet we'll go after any money that they did not earn.
You were an animal on the field Chris, and I enjoyed your rookie season. Good luck with your future endeavors, we wish you the best. And watch your head!
I Guess we'll be Drafting an ILB??
Let's take a look at 5 college ILB's who might make our roster next year. For more information, feel free to look up this
list
. All five are expected to be drafted in the first 4 rounds, with the top 3 selections probably going off the board in the first couple rounds.
Denzel Perryman, Miami: Touted as the top ILB in the draft, Perryman almost comes off as a Borland clone. He's a little undersized at 5'10" but he's shown to be instinctual, quick and good in both run-stopping and pass coverage. A true 3-down LB.
Eric Kendricks, UCLA: Younger brother of NFL backer Michael Kendricks, Eric is known as a sideline-to-sideline defender who put together 3 very productive seasons as a starter. He's known as a playmaker that saves his best for the biggest games.
Benardrick McKinney, Miss St: He's got better speed and size than the first two candidates, though poor Combine interviews might hurt his draft stock. Has the athleticism to be a 3-down LB in the NFL.
Stephone Anthony, Clemson: Great size and speed, combined with 3 productive starting seasons make Anthony an intriguing option. He also showed well at the Combine and the Senior Bowl. Projected for rounds 2-3, he might be a great value pick.
Paul Dawson, TCU: He might be another Borland clone, in that his game tape and Combine results were drastically different. He put together some serious numbers as a senior, which some team won't ignore. He's also had some off-the-field issues which might hurt his stock.
While not in the top 5, keep an eye out for Hayes Pullard, USC and Taiwan Jones, Mich State. Both have good size and might be great value picks in the middle rounds.
Hero of the Week!
We here at 'First and Goal' believe in mankind. We believe in class. YEA I SAID IT! Our newest 49er, Torrey Smith, is by all means a classy individual. He's been voted by his teammates for the Walter Payton Award (like our Boldin), for his charitable work in the community. While he's not helping underprivileged children, he's also involved with the political side of things, interning with Maryland representative Elijah Cummings. He even married his childhood sweetheart!
It doesn't take a long look at his tweet history to see that Torrey is cultured, intelligent and thoughtful. He's taken advantage of his success to give back to others. And even when personal tragedy struck, he didn't abandon his brothers in arms, playing a football game soon after his brother's untimely death. At only 26 years of age, Torrey has already accomplished a lot in his life. We hope that he accomplishes a lot more as a member of our beloved 49ers. Our HOTW, and newest 49er, speed demon Torrey Smith!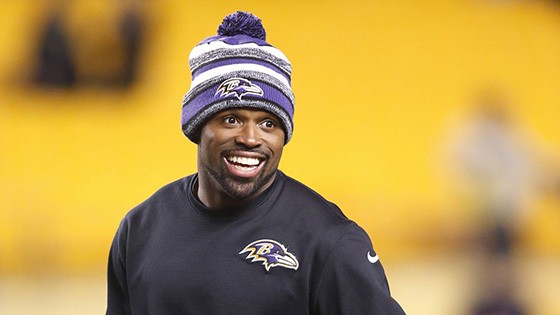 Charles LeClaire-USA TODAY Sports