Videos are auto-populated by an affiliate. This site has no control over the videos that appear above.
If someone told any fan of the San Francisco 49ers that the team could have the same record as the Arizona Cardinals after four games, the response probably would have been, "I'd take that in a heartbeat." Well, be careful what you wish for, because heading into Week 5, the division rivals do indeed have the same record, but it's unfortunately an unsightly 1-3.
The Niners will catch a break in that QB Carson Palmer is dealing with a concussion, which means the Cards will have to turn to backup QB Drew Stanton. San Francisco has been so bad lately on both sides of the ball though, it might not matter who's behind center anyway. On top of their struggles, the men in red and gold also have some major injury issues of their own on defense as they'll be without ILB NaVorro Bowman, CB Jimmie Ward, and DL DeForest Buckner. Still, if the 49ers have any hope of salvaging their season, they have to find a way to win at home on a short week.
RELATED
Carson Palmer will not play against 49ers on Thursday
Recent History
The Cardinals handed the 49ers one of the worst losses in franchise history in Week 3 of 2015, demolishing head coach Jim Tomsula's squad 47-7. QB Colin Kaepernick was picked off four times, and couldn't get anything going through the air, as San Francisco ended up with 53 net passing yards. You read that correctly – 53 net passing yards. On the Arizona side, QB Carson Palmer threw for 311 yards and two scores. RB Chris Johnson ran for 110 yards and two scores, and WR Larry Fitzgerald put up 134 yards and two scores. It's possible the ball boy scored twice too. It was all kind of blur after awhile.
Week 12 offered a much more competitive game, as the Niners were able to stay with the Cardinals for three quarters, before giving up the go ahead touchdown in fourth and ultimately losing 19-13. QB Blaine Gabbert threw for 318 through the air with a touchdown, but all that yardage didn't translate to the scoreboard. Neither team was able to run the ball particularly well (29-70 for Cards, 17-67 for SF) and the defenses did their part. The 49ers did turn the ball over twice though, while Arizona played a clean game.
Players to Watch
In 2016, 49ers quarterbacks had a rating of 116.9 when targeting WR Torrey Smith. While he didn't get many opportunities, Smith did haul in 33 of the 62 balls thrown his way, and averaged a league high 20.1 yards per reception. This year has been a completely different story in terms of impact, as QB Blaine Gabbert's rating throwing to the speedy receiver is 38.8, and Smith's yards per catch is at a career worst 11.8. The Niners haven't taken many shots down fieild, and the one time they did in Week 4, Gabbert badly under threw the pass and it was picked off. To make matters worse, if you watch the game tape, Smith has been open, but Gabbert either isn't looking his way or checking down before Smith's route has time to develop. This has to change, and Gabbert and Smith need to develop a rapport quickly or the offense will continue to suffer.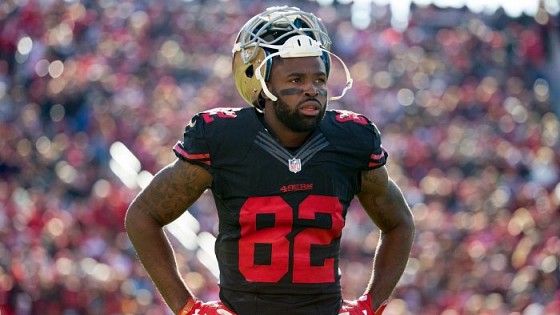 Do you remember when 100-yard rushers were few and far between against the vaunted Niner defense? Even though it was only a few years ago, those days seem like distant memories now as the defense has given up 100 yards or more to a back in each of the last three weeks. With Palmer out, most of the Arizona offense will probably go through RB David Johnson, who's a good bet to have a big game. The second year runner is seventh in the NFL with 300 yards on the ground, and is averaging 4.7 yards per carry. He'll be tough to stop, especially without Bowman.
Stats to know
In 2014 and 2015 combined, the 49ers scored a total of 53 offensive touchdowns. Currently, they're on pace to get 44 this season. RB Carlos Hyde leads the team with five, which would equal out to 20 over a 16-game season. Hyde has picked up his play of late, after struggling some during the first two weeks. Duting the first two games, Hyde had 37 carries for 122 yards (3.29 per carry), but has gone 36/177 since (4.9 per attempt). Hyde is currently on pace to gain 1,196 yards which would be the most by a 49er since RB
Frank Gore
in 2012. If he stays healthy, Hyde should also shatter the mark for rushing touchdowns in a season, which is 10 (held by multiple players). With the passing game struggling, the 49ers will need to go to Hyde early and often.
PFF's Top Week 4 Grades
Cardinals
49ers
OLB Chandler Jones, 89.9
CB Rashard Robinson, 92.3
DT Calais Campbell, 85.0
TE Garrett Celek, 83.5
OLB Markus Golden, 83.6
DE DeForest Buckner, 82.3
DT Corey Peters, 82.6
WR Jeremy Kerley, 79.1
WR John Brown 82.0
DE Quinton Dial, 77.3
Game Changing Factor
When defensive coordinator Jim O'Neil was in charge of the defense in Cleveland, there were rumblings from the Brown's players that his system was confusing. Defensive lineman apparently were asked to react to the offensive line, often causing them to shoot the wrong gaps. In turn, the Browns were run all over and finished last in the NFL in rushing yards allowed in 2014 (2,265) and 30th in 2015 (2,055). This season the 49ers are currently last in that department, as they've give up a league high 562 yards on the ground. The defensive line, once thought to be a strength of the team, has been pushed around, and given up 176, 127, and 194 on the ground during the past three weeks, O'Neil has to find some solutions, and fast, or his stint in San Francisco could be a short one.
RELATED
49ers defense on pace to be worse than last season
By the Numbers
WR Jeremy Kerley's team-high
18
receptions in the first 4 games of 2016 are the most to start a season in his career.
The 49ers offense has registered
7
rushing touchdowns this season, the 2nd-most in the NFL (Dal, 8).
Over the last 7 seasons (2009-15), the 49ers are
6-1
at home against the Arizona Cardinals.
News from the Week
The biggest story from this week was the news that ILB NaVorro Bowman would
miss the remainder of the season with a torn Achilles
. He suffered the injury during the third quarter of the 49ers' loss to the Dallas Cowboys on Sunday. Bowman went down while rushing the line of scrimmage and immediate grabbed at his left ankle. He received attention from the 49ers' medical staff and eventually walked off of the field with a limp and some help from team trainers. Bowman was later carted to the team's locker room.
OLB Aaron Lynch ended his four-game suspension and
returned to practice with his 49ers teammates
. Head coach Chip Kelly stated that the team is hoping to get him on the field against the Cardinals, but it all depends on how he looks during his first week back at practice.
Matchup Information
Kickoff:
Thursday, October 6 at 5:25 p.m. PT
Where:
Levi's Stadium in Santa Clara, California
All-Time Matchup:
49ers lead series 29-20
Last Meeting:
11/29/15, Cardinals win 19-13, at SF
Current Streak:
Lost 2
Betting:
The Cardinals are 3.5-point favorites
NFL Fan Picks:
61% pick the Cardinals to win according to
Yahoo! Sports
49ers Fan Picks:
Within our
Pick 'em Contest
, 59% believe the Cardinals will win
49ers Schedule:
View full schedule
Cardinals News:
Cardinals news at Problitz.com
Follow Game Online:
NFL.com's Game Center
Discuss:
Niner Talk forum
Follow Us:
Facebook
,
Twitter
,
Google+
Television and Radio
The game will be televised on
NFL Network
(Check
506 Sports
to see if it is local).
Play-By-Play:
Jim Nantz
Color Analyst:
Phil Simms
Sideline Reporter:
Tracy Wolfson
KGO 810 AM
and
The Bone 107.7 FM
(
Other markets
) will carry the radio broadcast with Ted Robinson doing the play-by-play and Tim Ryan as the color analyst.
ESPN Deportes
and
KKSF 910 AM
will carry the spanish broadcast.
Open Times
Parking lots will open at 1:55 p.m. on Thursday. Faithful Mile and premium gates will open at 2:25 p.m. and all gates to the stadium will open at 3:25 p.m.
San Francisco 49ers Injuries
Out:
LB NaVorro Bowman (achilles), DT DeForest Buckner (foot), CB Jimmie Ward (quad)
Questionable:
DT Glenn Dorsey (knee), WR Jeremy Kerley (ankle), TE Vance McDonald (hip)
Arizona Cardinals Injuries
Out:
TE Darren Fells (shoulder), QB Carson Palmer (concussion), DT Ed Stinson (toe)
Questionable:
CB Justin Bethel (foot), DT Josh Mauro (chest), DT Frostee Rucker (knee)
Game Averages (Rank)
| Cardinals | | 49ers |
| --- | --- | --- |
| 23.0 (14th) | Offense Pts | 22.5 (15th) |
| 382.0 (7th) | Offense Yds | 292.8 (30th) |
| 281.2 (7th) | Offense Pass | 178.8 (32nd) |
| 100.8 (15th) | Offense Rush | 114.0 (10th) |
| 20.0 (11th) | Defense Pts Allowed | 26.8 (23rd) |
| 313.5 (8th) | Defense Yds Allowed | 390.0 (26th) |
| 203.5 (7th) | Defense Pass Allowed | 249.5 (13th) |
| 110.0 (20th) | Defense Rush Allowed | 140.5 (32nd) |
Individual Statistics
Team Leaders
Passing
Comp
Yds
TD
INT
Carson Palmer, ARI
58.8
1150
6
5
Blaine Gabbert, SF
58
728
4
4
Rushing
Car
Yds
Avg
TD
David Johnson, ARI
64
300
4.7
3
Carlos Hyde, SF
73
299
4.1
5
Receiving
Rec
Yds
Avg
TD
Larry Fitzgerald, ARI
25
280
11.2
3
Jeremy Kerley, SF
18
202
11.2
1