Videos are auto-populated by an affiliate. This site has no control over the videos that appear above.
Many questioned the hiring of Jim O'Neil as the San Francisco 49ers defensive coordinator early during the offseason. However, an impressive Week 1 performance against the Los Angeles Rams put fans' minds at ease – for a week.
Since giving up just 185 total yards to the Rams, the 49ers defense has given up an average of 458.3 yards per game over the past three weeks – all of which resulted in losses. The defensive performances over the past three games have put the O'Neil hiring back under scrutiny. Of course, it does not help that the 49ers offense has averaged just 292.8 total yards on offense (30th in the NFL) and just 70 total first downs through four games (27th in the NFL). The passing game ranks last in the league, so the 49ers offense is not doing the 49ers defense any favors.
Although, O'Neil's track record has not been the best. His defenses with the Cleveland Browns ranked 27th in 2015 and 23rd in 2014. They dropped from 8th to 22nd against the pass from 2014 to 2015. Against the run, they were 30th in 2015 and last in 2014. So, his resume was questionable at best.
Still, O'Neil's 2015 defense ranked better than the 49ers' Eric Mangini led defense that same year. His defense even beat the 49ers during the 2015 season. This season, O'Neil's 49ers defense ranks 26th overall, 23rd in points allowed, and last against the run.
What is really disturbing is the pace that the 49ers defense is on this season. It's about the same pace as last season's poor 49ers defense – worse in some areas. And now the 49ers defense will have to move forward without the best player and emotional leader,
ILB NaVorro Bowman
, who was lost for the season to a torn Achilles.
RELATED
49ers' NaVorro Bowman out for season with torn Achilles
Last season, the 49ers defense allowed 6,199 total yards to opposing offenses. This season, they are on pace to allow 6,240. Last season, they allowed 2,020 rushing yards to opponents. This season, they are on pace to allow 2,248.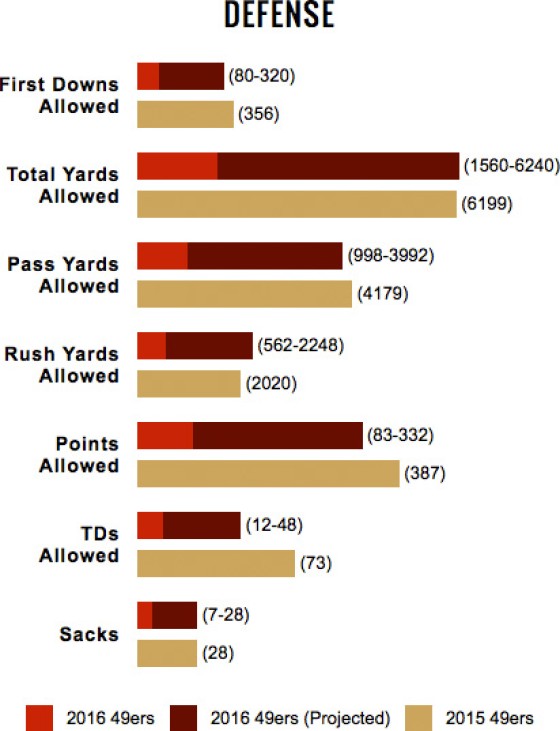 "I think it starts first with tackling," O'Neil said today when asked about how he plans to improve the team's run defense. "You know, we've got to do a better job and it's something that we did a great job of all through preseason and then the first game of the year. And then the last two games, we've missed more tackles which has been uncharacteristic of our defense. So we've got to emphasize the heck out of that in practice. Just how you finish every play. You gotta bend at the end. You gotta press at the hip. All the coaching points that we constantly give the guys. We've got to emphasize it even though we're not hitting in practice, you've got to finish every play that way.
"We did some things the past couple of weeks that were uncharacteristic of us technique-wise, especially up front where they were able to cut our defense in half. So we've got to make some improvements there. And then I can help the guys play calling-wise – when we've getting those fast zones – helping the guys get going in a certain area so we're not as vulnerable to getting cut backside and some other things.
"So, it's something that we're spending time on. We did a lot of good things, but we're still letting – you know, those two or three big plays – they're getting out of us and that's what we got to take out of our game."