Videos are auto-populated by an affiliate. This site has no control over the videos that appear above.
Just saying the words CentruyLink Field should send shivers down the spine of any fan of the San Francisco 49ers, as the stadium's been a house of horrors for the team. The Niners haven't won in Seattle since 2011, dropping five straight. To make matters worse, sans the 2013 NFC Championship game, the contests haven't really been all that competitive as the 49ers have been outscored 140-53. Still, the Seahawks are more vulnerable right now than they have been in a while, so the tide could be turning.
Recent History
Seattle owned their rivals in 2015, sweeping the season series with relative ease. In Week 7, the 49ers only managed 142 total yards, and couldn't find the endzone in the 20-3 defeat at home. Colin Kaepernick was sacked six times by a swarming Seahawk's defense, and San Francisco only managed eight first downs. On the other side, Marshawn Lynch paced the victor's attack by gaining 122 yards on the ground.
The Niners put up more of a fight in Week 11, but ultimately still couldn't keep up with
Russell Wilson
and a Seattle offense that put up 508 yards in their 29-13 victory. Wilson threw for three scores, and Thomas Rawls ran all over the 49ers to the tune of 209 yards. Blaine Gabbert did throw for 264 yards, but it didn't translate to the scoreboard.
Players to Watch
Many thought that Vance McDonald was in for a big year in 2016, but he hasn't seen much volume so far in Chip Kelly's offense. Splitting time with Garrett Celek, McDonald has only had five total targets in the passing game. He's made the most of his chances though, hauling in three catches for 89 yards and two scores. With the Seahawks traditionally tough on wide receivers, you might see the Niners go to McDonald a little more this week. He and Gabbert seem to have a good rapport, and with the quarterback struggling to find a rhythm, a steady dose of McDonald may be the remedy,
While the 49ers offensive line has done an excellent job in pass protection this season, they'll have their hands full with Michael Bennett (2 sacks), Frank Clark (3 sacks) and company. Bennett is well known as he's been a premier pass rusher for years, but Clark's a player to look out for. A second-round pick in 2015, Clark seems to be coming into his own in limited playing time, and has been impressive early on.
Game Changing Factor
While the defense is still as fearsome as ever, the Seahawk's offense is really struggling right now. Wilson is hurting with a high ankle sprain, and anytime his mobility is compromised it takes away from his overall game. Wilson averaged 38 rushing yards per contest and 5.9 yards per carry over his first four seasons, but only has 30 yards on nine attempts this year (3.3 ypc). Making matters worse, receiver Doug Baldwin is also banged up and the o-line isn't very good. In turn, the Seahawks are the second lowest scoring team in the NFL through two weeks (15 total points).
Stats to Know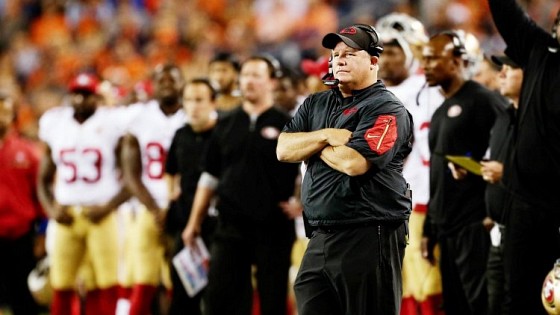 While Kelly has been known as a coach who's teams run the ball well, the 49ers haven't performed in this department as of yet. While they have faced very tough defenses so far, San Francisco running backs have gained only 162 yards on 56 carries, which is 2.89 yards per rush. As a team, they're near the bottom of league in yards per rush (3.2) with only four teams below them. San Francisco isn't exactly lighting it up through the air either, as they currently rank 31st in the league in yards per attempt (5.8), with only the Los Angeles Rams doing worse. All this adds up to playing offense in a box, which has to change. It's amazing the Niners are currently 11th in the NFL in scoring with 55 points.
PFF's Top Week 2 Grades
49ers
Seahawks
LT Joe Staley, 84.1
LB Bobby Wagner, 89.7
LB NaVorro Bowman, 82.0
LB K.J. Wright, 87.5
C Daniel Kilgore, 81.6
DT Tony McDaniel, 81.3
RT Trent Brown, 79.5
DE Frank Clark, 80.2
LB Gerald Hodges, 78.9
S Earl Thomas, 80.1
By the Numbers
The 49ers have scored 34 points off of their 6 takeaways, the most in the NFL this season.
The 49ers' 6 turnovers in Weeks 1 and 2 are the most to start a season for San Francisco since 2003.
The 49ers are looking to go 2-0 in the team's first two divisional games of the season for the first time since 2012.
The 49ers are tied with the Dallas Cowboys and Oakland Raiders for the most rushing touchdowns in the NFL this season with 4.
News from the Week
ILB Ray-Ray Armstrong, who suffered a pectoral tear during the second half of the 49ers' game against the Carolina Panthers,
was placed on the Injured Reserve list
. To fill his roster spot, the
49ers promoted LB Shayne Skov from the practice squad to the active roster
. The 49ers have also signed LB Curtis Grant to the team's practice squad.
Backup quarterback Colin Kaepernick laid out his plan to donate the first $1 million of his salary this season to organizations that are combating the same inequalities he's taking a stand against with his anthem protest.
He will donate $100,000 a month for the next 10 months
and set up a website so the money can be tracked and the public can see how the money was spent. Kaepernick also revealed that he has received death threats outside of social media because of his stance.
RELATED
Colin Kaepernick appears on cover of TIME Magazine
On Thursday, TIME Magazine revealed that Kaepernick
would appear on the cover of the latest issue
. Head coach Chip Kelly defended Kaepernick and his stance while speaking to the media following that announcement. It even included a rather bizarre and somewhat humorous
back and forth with a reporter who disagreed
with how Kelly was handling the situation.
Matchup Information
Kickoff:
Sunday, September 25 at 1:05 p.m. PT
Where:
CenturyLink Field in Seattle, Washington
All-Time Matchup:
Seahawks lead series 20-15
Last Meeting:
11/22/15, Seahawks win 29-13, at Sea.
Current Streak:
Lost 5
Betting:
The Seahawks are 10-point favorites
NFL Fan Picks:
71% pick the Seahawks to win according to
Yahoo! Sports
49ers Fan Picks:
Within our
Pick 'em Contest
, 51% believe the Seahawks will win
49ers Schedule:
View full schedule
Seahawks News:
Seahawks news at Problitz.com
Follow Game Online:
NFL.com's Game Center
Discuss:
Niner Talk forum
Follow Us:
Facebook
,
Twitter
,
Google+
Television and Radio
The game will be televised on
FOX
(Check
506 Sports
to see if it is local).
Play-By-Play:
Kevin Burkhardt
Color Analyst:
John Lynch
Sideline Reporter:
Pam Oliver
KGO 810 AM
and
The Bone 107.7 FM
(
Other markets
) will carry the radio broadcast with Ted Robinson doing the play-by-play and Tim Ryan as the color analyst.
ESPN Deportes
and
KKSF 910 AM
will carry the spanish broadcast.
San Francisco 49ers Injuries
Out:
OT Anthony Davis (concussion)
Questionable:
S Marcus Cromartie (ankle), S Jaquiski Tartt (knee)
Seattle Seahawks Injuries
Doubtful:
RB Thomas Rawls (shin), OG Germain Ifedi (ankle), TE Nick Vannett (ankle)
Questionable:
WR Tyler Lockett (knee), RB C.J. Prosise (wrist)
Game Averages (Rank)
| 49ers | | Seahawks |
| --- | --- | --- |
| 27.5 (9th) | Offense Pts | 7.5 (31st) |
| 311.0 (27th) | Offense Yds | 329.0 (26th) |
| 203.5 (28th) | Offense Pass | 239.5 (21st) |
| 107.5 (12th) | Offense Rush | 89.5 (18th) |
| 23.0 (18th) | Defense Pts Allowed | 9.5 (1st) |
| 357.0 (16th) | Defense Yds Allowed | 248.5 (1st) |
| 236.5 (12th) | Defense Pass Allowed | 184.5 (4th) |
| 120.5 (25th) | Defense Rush Allowed | 64.0 (3rd) |
Individual Statistics
Team Leaders
Passing
Comp
Yds
TD
INT
Blaine Gabbert, SF
54.9
413
3
2
Russell Wilson, SEA
62.8
512
1
1
Rushing
Car
Yds
Avg
TD
Carlos Hyde, SF
37
122
3.3
2
Christine Michael, SEA
25
126
5
0
Receiving
Rec
Yds
Avg
TD
Jeremy Kerley, SF
10
90
9
0
Tyler Lockett, SEA
7
116
16.6
0
Poll
Do the 49ers beat the Seahawks on the road?

Absolutely

No way

157 votes