Videos are auto-populated by an affiliate. This site has no control over the videos that appear above.
It's hard to imagine that even the most optimistic of fans could have envisioned how dominant the San Francisco 49ers would be in their 28-0 Week 1 thrashing of the Los Angeles Rams. Actually, the team looked very 2011-ish, centering the offensive attack around the run (42 attempts for 150 yards and three scores) and playing fast, swarming defense. The offensive line was dominant early on, and that's saying a lot considering how strong of a front four the Rams have. The team looked well coached and prepared, which was a welcome sight after routinely getting the short end of the stick in that department last season.
Despite all the good feelings, the Niners still have work to do in the passing game, and that could be an issue for them moving forward. The schedule is about to get very difficult, and the rough stretch starts with a trip to Caroline to take on the NFC Champion Panthers. Is San Francisco for real, or did they just beat up on a bad Rams team?
Recent History
The 49ers and Panthers actually met twice in 2013, once during the regular season and again in the playoffs. In the Week 10 match up, both offenses struggled in the 10-9 Carolina win, but the Niners' was especially dreadful. Colin Kaepernick was 11 of 22 for 91 yards and was sacked six times.
Frank Gore
did manage 82 yards on 16 carries, but it wasn't enough to help San Francisco reach the end zone.
The Divisional Round was a different story however, as a rejuvenated Kaepernick played a solid game, throwing for 196 yards and a score. Anquan Boldin was the target for 136 of them, and Vernon Davis would bring in a 1-yard touchdown pass in the Niner's 23-10 win. This time it was the San Francisco defense that would dominate, as they dropped Cam Newton five times. Ahmad Brooks was the main culprit with 2.5 sacks.
Panthers QB Cam Newton, per PFF
Pressure
QB Rating
No pressure
77.4
Plays under pressure
48.4
When not blitzed
65.7
When blitzed
74.0
All Plays
69.5
Players to Watch
One thing that was sorely missing for the 49ers in Week 1 was big plays in the passing game. In order to have a chance against good teams like the Panthers, the Niners will have to hit on some of these, and that's why WR Torrey Smith is so important. Smith was targeted six times against the Rams, but they were mostly shorter passes. Overall he caught 2 balls for 13 yards. Smith led the league in yards per reception last season at 20.1, and Chip Kelly needs to take advantage of his ability to stretch the defense. San Francisco has to take some shots to Smith, even if it's just to keep the defense honest.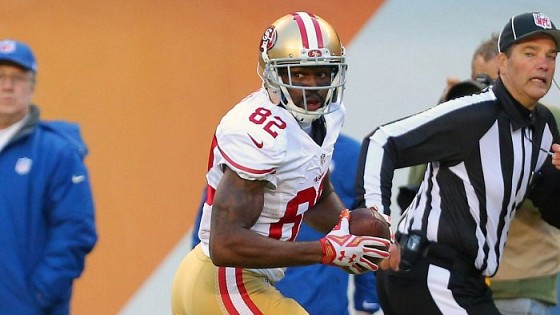 Considering he's coming off a knee injury that cost him all of 2015, no one knew how WR Kelvin Benjamin would bounce back for Carolina. Once Newton's favorite target, it was unknown if Benjamin would be eased back into action, or if he would need time to round back into form. Benjamin put all of the doubts to rest though, as he hauled in six of his 12 targets for 91 yards and a score in Week 1. With Newton hurting after a taking a beating at the hands of the Denver Broncos, you could see him run less this week. That will make Benjamin all the more important as Newton may be more of a pocket passer.
Stats to Know
Before their 28-0 win to open the season, the 49ers hadn't scored four touchdowns in a game since Week 16 of 2014. That was also the last time they'd scored more than 27 points. In fact, the Niners only broke 20 points three times all of last season. Scoring will be essential this week, as the Panthers scored 264 points at home last season (33 per game) and scored 27 or more seven times.
PFF's Top Week 1 Grades
49ers
Panthers
CB Jimmie Ward, 89.9
LB Luke Kuechley, 83.7
S Eric Reid, 86.9
QB Cam Newton, 83.7
LT Joe Staley, 83.6
TE Greg Olsen, 83.2
DE Arik Armstead, 82.9
C Ryan Kalil, 78.5
LB NaVorro Bowman, 82.8
CB Bene Benwikere, 78.1
Game Changing Factor
The Panther's defense may not be the same as they were a year ago without Pro Bowl corner Josh Norman (now with the Washington Redskins), but they are still an opportunistic group that forces turnovers. The Panthers led the NFL with 39 takeaways last season, and continued that trend with three more in Week 1. Gabbert was often inaccurate and was lucky not to be picked off multiple times by the Rams, but he won't be so lucky if he makes the same mistakes in Carolina.
Matchup Information
Kickoff:
Sunday, September 18, 2016 at 10 a.m. PT
Where:
Bank of America Stadium in Charlotte, North Carolina
All-Time Matchup:
Panthers lead series 11-8
Last Meeting:
1/12/14, 49ers win 23-10, at CAR in NFC Divisional playoff game
Current Streak:
Won 1
Betting:
The Panthers are 13.5 point favorites
NFL Fan Picks:
75% pick the Panthers to win according to
Yahoo! Sports
49ers Fan Picks:
Within our
Pick 'em Contest
, 70% believe the Panthers will win
49ers Schedule:
View full schedule
Panthers News:
Panthers news at Problitz.com
Follow Game Online:
NFL.com's Game Center
Discuss:
Niner Talk forum
Follow Us:
Facebook
,
Twitter
,
Google+
Television and Radio
The game will be televised on
FOX
(Check
506 Sports
to see if it is local).
Play-By-Play:
Chris Myers
Color Analyst:
Ronde Barber
Sideline Reporter:
Jennifer Hale
KGO 810 AM
and
The Bone 107.7 FM
(
Other markets
) will carry the radio broadcast with Ted Robinson doing the play-by-play and Tim Ryan as the color analyst.
ESPN Deportes
and
KKSF 910 AM
will carry the spanish broadcast.
San Francisco 49ers Injuries
Out:
OT Anthony Davis (concussion)
Questionable:
CB Marcus Cromartie (ankle), CB Chris Davis (hamstring), CB Keith Reaser (ankle), OG Andrew Tiller (ankle)
Carolina Panthers Injuries
Questionable:
S Dean Marlowe (hamstring), RB Jonathan Stewart (ankle)
Game Averages (Rank)
| 49ers | | Panthers |
| --- | --- | --- |
| 28.0 (9th) | Offense Pts | 20.0 (21st) |
| 320.0 (21st) | Offense Yds | 333.0 (19th) |
| 170.0 (27th) | Offense Pass | 176.0 (26th) |
| 150.0 (5th) | Offense Rush | 157.0 (2nd) |
| 0.0 (1st) | Defense Pts Allowed | 21.0 (13th) |
| 185.0 (2nd) | Defense Yds Allowed | 307.0 (8th) |
| 120.0 (2nd) | Defense Pass Allowed | 159.0 (4th) |
| 65.0 (8th) | Defense Rush Allowed | 148.0 (27th) |
Individual Statistics
Team Leaders
Passing
Comp
Yds
TD
INT
Blaine Gabbert, SF
62.9
170
1
0
Cam Newton, CAR
54.5
194
1
1
Rushing
Car
Yds
Avg
TD
Carlos Hyde, SF
23
88
3.8
2
Jonathan Stewart, CAR
15
64
4.3
0
Receiving
Rec
Yds
Avg
TD
Jeremy Kerley, SF
7
61
8.7
0
Kelvin Benjamin, CAR
6
91
15.2
1