On Thursday, the San Diego Chargers (1-2) will host the San Francisco 49ers (1-2) at Qualcomm Stadium in San Diego, California. The 49ers are coming off of a 21-10 loss against the Green Bay Packers. The Chargers are coming off of a 23-10 loss against the Minnesota Vikings.
Thursday's game will be the Chargers' annual "Salute to the Military" and the National Anthem will be sung by Petty Officer 1st Class Steven Powell from the U.S. Navy. The Chargers do this every year to pay tribute to the thousands of military members who live in the San Diego area. After all, as a naval town, San Diego has the highest number of military personnel on the west coast.
49ers quarterback Colin Kaepernick will be there. He will play in the game and likely start at quarterback for the two teams' final match-up of the exhibition season. One thing that he will not do is stand for the National Anthem. As he has done for the entire preseason, Kaepernick will continue to protest what he describes as "unjust" actions by this country. It is a controversy that has dominated the headlines since news broke of it late Friday night following the team's loss to the Packers.
RELATED
Recap: Colin Kaepernick looks rusty in 49ers' 21-10 loss to Packers
"I'll continue to sit," said Kaepernick on Sunday. "I'm going to continue to stand with the people that are being oppressed. To me this is something that has to change. When there's significant change and I feel like that flag represents what it's supposed to represent, this country is representing people the way that it's supposed to, I'll stand."
"I have great respect for the men and women that have fought for this country," said Kaepernick while explaining his actions. "I have family, I have friends that have gone and fought for this country. And they fight for freedom, they fight for the people, they fight for liberty and justice, for everyone. That's not happening."
"I think it's the most polarizing subject that I've covered in probably 17 years on the NFL beat," declared Cam Inman of
Bay Area News Group
on Monday while discussing the matter on
95.7 The Game
.
Following the National Anthem, which will likely be the focus for much of the country, there will also be a game played.
During the 49ers' first three preseason games, the starting offense has gone three-and-out with QB Blaine Gabbert at the helm in each of their initial possessions. Gabbert will not play against the Chargers. While the final preseason game is when teams typically rest their starters to prepare for the regular season, head coach Chip Kelly said the reasoning behind playing Kaepernick and resting Gabbert was different. At least, that is what the team would like people to believe.
Preseason Quarterback Statistics
Passing
CP/AT
YDS
TD
INT
J. Driskel
14/27
129
0
0
C. Ponder
8/11
97
1
1
C. Kaepernick
2/6
14
0
0
Kelly's reasoning was that they have seen enough from Gabbert, who has 43 snaps in preseason. Kaepernick only has 13 snaps, due to missing the first two games with a muscle issue in his throwing arm. The coaching staff would like more snaps from Kaepernick to make a proper evaluation of the quarterbacks. Although, many believe that Gabbert will likely be the starter for the team's Week 1 contest at home against the Los Angeles Rams.
Still, all eyes will be on Kaepernick and his final push to impress his coaches and possibly end the offense's slow starts in preseason.
This week, Kelly stated that the coaching staff would likely decide on a starting quarterback as early as Friday, once they have had time to review the film from the game.
Over their first two preseason games, the 49ers offense has looked like a typical Chip Kelly offense, averaging over 400 yards per game. However, against the Packers, the San Francisco offense was able to gain just 195 total yards. Only 61 of those came through the air.
5 49ers to Watch
Colin Kaepernick
For all of the reasons already stated, Kaepernick will be the focus of the game both on the sideline and on the field. He'll need a strong performance to prove that he deserves to be in the discussion of being a starting quarterback – perhaps even to simply make the final roster.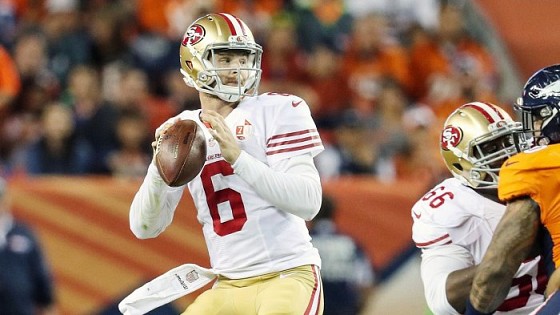 Jeff Driskel
The 49ers will likely carry three quarterbacks on their roster this season. Quarterback Jeff Driskel hopes to be one of them. The rookie has shown flashes, but his total preseason performance has been mixed. He will likely get a good look on Thursday against the Chargers and has to make the most of his opportunity.
Will Redmond
The 49ers' game against the Packers was Redmond's first NFL action. He had a sack and two tackles for a loss. The rookie cornerback is coming off of a torn ACL and has been very limited in training camp. He was considered to be a promising draft pick that would have gone higher if not for the injury.
Devon Cajuste
With Bruce Ellington out for the season and DeAndre Smelter's inability to get onto the field, the 49ers have a number of young receivers that they would like to get an extended look at. One of the more intriguing is Cajuste, who is 6-4 and 234 lbs. He has good size and has reportedly looked solid in training camp. If he does not make the final roster, he would be a strong candidate for the team's practice squad.
Ronald Blair
The defensive lineman has shown a lot of strength and flashes during preseason. Statistically, he has not done much, but he has shown enough during the offseason to make the team's final roster. The nice thing about Blair is his versatility. Like all of the defensive lineman, he has been learning every position up front and has proven to be a match-up problem wherever he lines up.
News from the Week
The 49ers
traded OG Brandon Thomas to the Detroit Lions for WR Jeremy Kerley
. Kerley spent his first five seasons in the league with the New York Jets. He had 16 catches for 152 yards and two touchdowns last season. He has 182 receptions for 2,225 yards and his career high in catches (56) and yards (827) came in 2012.
WR Bruce Ellington (hamstring) is
out for the season and was placed on injured reserve
. He was hurt during a return on special teams against the Packers.
The 49ers
released 12 players to reach the 75-player limit
required by Tuesday. The biggest name among the group was WR Jerome Simpson.
Matchup Information
Kickoff:
Thursday, September 1 at 7:00 PM PT
All-Time Preseason Matchup:
49ers lead series 22-16
Last Preseason Meeting:
9/3/15, 49ers win, 14-12, at SF
Current Preseason Streak:
Won 6
49ers Schedule:
View full schedule
Chargers News:
Chargers news at Problitz.com
Follow Game Online:
NFL.com's Game Center
Discuss:
Niner Talk forum
Follow Us:
Facebook
,
Twitter
,
Google+
Television and Radio
Most California residents will be able to watch Thursday's game. In the Bay Area, the game will be broadcast on KPIX 5. In the San Diego area, it will broadcast on KFMB 8.
| | |
| --- | --- |
| Area | Channel |
| San Francisco | KPIX 5 |
| Sacramento | KOVR 13 |
| Monterey | KION 46 |
| San Luis Obispo | KSBY 6.2 |
| Fresno | KFRE 59 |
| Bakersfield | KERO 23 |
| Los Angeles | KCAL 9 |
| San Diego | KFMB 8 |
| Yuma, AZ | KSWT 13 |
| Las Vegas, NV | KLAS 8 |
| Reno, NV | KOLO 8 |
| Chico | KRVU 22 |
| Eureka | KECA 29 |
| Medford, OR | KMVU 26 |
| Eugene, OR | KMTR 16 |
| Bend, OR | KTVZ 21 |
| Honolulu, HI | KITV 4 |
Bay Area Radio:
KGO 810 AM and The Bone 107.7 FM (
Other markets
)
Spanish Radio:
KKSF 910 AM
Game Averages (Rank)
| 49ers | | Chargers |
| --- | --- | --- |
| 18.0 (23rd) | Offense Pts | 13.0 (28th) |
| 334.7 (12th) | Offense Yds | 300.3 (22nd) |
| 150.0 (30th) | Offense Pass | 213.3 (13th) |
| 184.7 (1st) | Offense Rush | 87.0 (24th) |
| 23.0 (27th) | Defense Pts Allowed | 17.7 (13th) |
| 340.0 (22nd) | Defense Yds Allowed | 324.0 (19th) |
| 218.0 (21st) | Defense Pass Allowed | 166.3 (4th) |
| 122.0 (24th) | Defense Rush Allowed | 157.7 (31st) |
Related News
You May Also Enjoy...