Videos are auto-populated by an affiliate. This site has no control over the videos that appear above.
The story broke around midnight
, when most fans were probably asleep. Those that weren't were likely hoping the story would fizzle out, but it gained some traction instead. After all, the San Francisco 49ers probably have more to worry about heading into their final preseason game of the season than the antics of one of their quarterbacks.
Regardless, here we are and here is everything that we know thus far.
Hours after the completion of the 49ers loss to the Green Bay Packers on Friday night, Mike Florio of
Pro Football Talk
reported a story that, at first glance, seemed like a joke or something out of
The Onion
. 49ers quarterback
Colin Kaepernick
, who some feel probably should have been more focused on his upcoming play in what could have been his only in-game audition for the starting job this season, decided to sit out the National Anthem prior to kickoff – literally.
As his teammates stood and honored their country and those that fight to protect it, Kaepernick decided to remain seated on a nearby sideline bench in protest.
Pro Football Talk
went on to point out a Tweet by another user that Kaepernick had retweeted on Thursday. It is accompanied by images of the American and Confederate flags and read, "The fact that you really believe that there is difference in these flags means that your [sic] ignoring history." That tweet was deleted earlier today.
When contacted about the protest by Kaepernick, the 49ers issued the following statement to
Pro Football Talk
.
"The national anthem is and always will be a special part of the pre-game ceremony. It is an opportunity to honor our country and reflect on the great liberties we are afforded as its citizens. In respecting such American principles as freedom of religion and freedom of expression, we recognize the right of an individual to choose to participate, or not, in our celebration of the national anthem."
Steve Wyche of
NFL Media
reported on
a discussion with Kaepernick about the situation
, learning that he was protesting the wrongdoings against African Americans and minorities in the United States. Apparently, Kaepernick hadn't stood for the National Anthem during the 49ers' previous two preseason games, but no one noticed because he was not in uniform and did not play.
Colin Kaepernick didn't stand for National Anthem in first 2 preseason games, either: few noticed because he wasn't in uniform, didn't play.

— Adam Schefter (@AdamSchefter) August 27, 2016
"I am not going to stand up to show pride in a flag for a country that oppresses black people and people of color," Kaepernick told
NFL Media
after the game. "To me, this is bigger than football and it would be selfish on my part to look the other way. There are bodies in the street and people getting paid leave and getting away with murder."
Kaepernick said that he was aware that the stance was not likely to sit well with a lot of people, including the 49ers. Kaepernick was simply fighting to get back into the quarterback race in San Francisco, but coupled with his poor performance against the Packers and the general consensus that
Blaine Gabbert
was leading the competition to start Week 1, this may have sealed Kaepernick's fate – although the coaching staff will likely never admit it.
I'm thinking the next conversation between Trent Baalke and Colin Kaepernick might not be so 'good'

— Michael Silver (@MikeSilver) August 27, 2016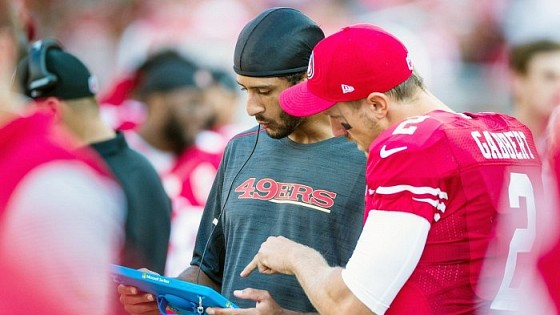 Team management is likely not happy with the negative press that Kaepernick's protest is generating. The team has had enough of that over the course of the past two offseasons. However, the decision on a starting quarterback will ultimately fall on the shoulders of head coach Chip Kelly.
"Easy way to make sure you're NOT the starting QB on opening day," said former NFL quarterback
Matt Hasselbeck
via Twitter.
What if Gabbert is named the starter? That would make Kaepernick a very expensive backup. "There's never been a conversation about cutting Colin Kaepernick," said Kelly while answering a question following Friday's game. He also stated that there is no timetable to determine a starting quarterback, even with the 49ers final preseason game – a game that typically has starters sit out – looming.
"This is not something that I am going to run by anybody," said Kaepernick. "I am not looking for approval. I have to stand up for people that are oppressed. ... If they take football away, my endorsements from me, I know that I stood up for what is right."
The NFL released a statement on Saturday regarding their position regarding participation in the National Anthem. "Players are encouraged but not required to stand during the playing of the National Anthem," said the NFL.
NFL spokesman: "Players are encouraged but not required to stand during the playing of the National Anthem." #49ers

— Eric Branch (@Eric_Branch) August 27, 2016
The National Anthem is a very important tradition to a number of head coaches around the league, like Los Angeles Rams head coach Jeff Fisher who takes time during training camp to go over proper team procedure during it and stresses its significance.
A number of athletes have responded to Kaepernick's protest
, with some chastising it and others showing some level of support.
On Saturday, Wyche would go on to further discuss Kaepernick's thinking. "He said he's just seen some things that have really struck a nerve with him and he wanted to find a way to make a point," said Wyche. "He said he wanted to become more educated about the issues, and this – as controversial as it is – is the way he felt he needed to take a stand."
"He did the same thing in the Denver game," said Chip Kelly during a conference call with the media on Saturday. "We recognize his right to express his feelings."
"It's not my right to tell him not to do something," added Kelly.
When asked if the situation has any impact on the football side of things, Kelly said it did not. "He's competing with Blaine to see who are starting quarterback is going to be," said Kelly while answering whether or not Kaepernick would be on the team's 53-man roster after final cuts are made prior to the start of the 2016 regular season.
Players are off today, but Kelly said that the situation with Kaepernick and its possible impact on the team's locker room would be addressed on Sunday. "We haven't gotten any feedback from any of our players about the situation," said Kelly. "I'm sure some of them would be aware of it after reading the accounts today. But no one has expressed anything. We'll talk about is a team. We're obviously off today, but we'll talk about it tomorrow."
Poll
Does Kaepernick's protest of the National Anthem make you think less of him?

Yes

No

1,272 votes