Videos are auto-populated by an affiliate. This site has no control over the videos that appear above.
Chip Kelly, who was hired on January 14, will walk the sidelines for the first time as the new San Francisco 49ers (0-0) head coach when his team opens up their exhibition play on Sunday against the Houston Texans (0-0) at Levi's Stadium in Santa Clara, California.
This season, Kelly will be looking to redeem himself after a disastrous 2015 campaign with the Philadelphia Eagles, resulting in his firing. The 49ers are looking to redeem themselves as well after their own disastrous 5-11 season under one-year head coach Jim Tomsula. Kelly has had some success in the NFL, having led the Eagles to back-to-back 10-win seasons during his first two years in the league. The 49ers, who are young and inexperienced, are looking for that same kind of reform from their new head coach.
The Texans finished the 2015 season winning the AFC South, but lost a Wildcard matchup against the Kansas City Chiefs. The 49ers' five victories last season placed them last within the NFC West standings with the team missing the postseason for the second time in as many seasons.
The 49ers enter their exhibition games in the midst of a quarterback competition. Blaine Gabbert and Colin Kaepernick are each fighting for the starting job with the team and the coaching staff has repeatedly stated that the preseason will be huge for evaluation.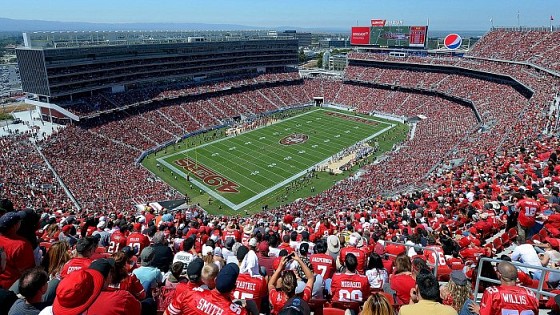 "I'll tell you what, both guys are doing a good job," said 49ers offensive coordinator Curtis Modkins on Tuesday regarding Gabbert and Kaepernick. "They are both competing their tails off. In the classroom, on the field, they are both doing a good job. I wouldn't say any one is ahead of the other right now. I think as we get into the preseason and we get to playing live games, those things will start happening, but right now I wouldn't say anyone is ahead of anybody. I just think they are both progressing like we want them to and both have been really good."
Kaepernick missed two days of team drills this week due to shoulder soreness, which he described as "just tightness." He doesn't feel as though the injury to his throwing arm will hold him back. "I've experienced that a couple times in my (high school) baseball career," said Kaepernick on Friday. "My arm's always snapped back quick, so not too concerned about it."
Like Kaepernick, Gabbert is eager to prove himself in preseason. "I'm just going to make the most of my opportunity," he said on Friday. "That's all you can do. Whether you're going in the first, second, third or fourth quarter, every quarterback wants to go out there and compete, have fun and just execute our offense and move the ball down the field."
The quarterback position isn't the only competition going on. The 49ers are attempting to determine who will start along the offensive line, specifically at right tackle, right guard, and perhaps even at left guard with Zane Beadles reportedly
not a lock for the spot
next to Joe Staley.
The wide receiver spot across from Torrey Smith is also up for grabs. Although, many believe that Quinton Patton is in
the lead for that job
. The inside linebacker position next to NaVorro Bowman remains a three-man competition between Gerald Hodges, Michael Wilhoite, and Ray-Ray Armstrong.
After having a tremendous offseason, Jimmie Ward looks like the leading candidate to start across from Tramaine Brock at cornerback. That would certainly be good news for the former first-round draft pick.
Sunday's matchup marks the fifth time the two clubs have met in preseason. Last season, the Texans defeated the 49ers 23-10 in the exhibition opener for both teams.
5 49ers to Watch
Obviously the quarterbacks warrant some observation on Sunday. However, here are five other 49ers players to keep an eye on during the team's first preseason game.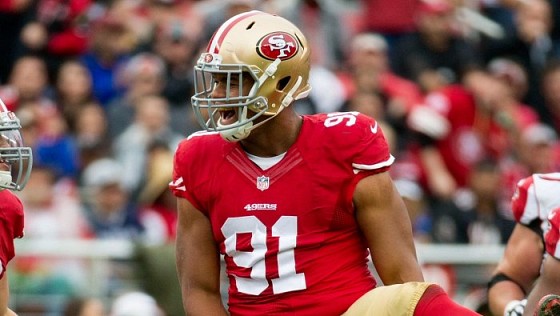 Arik Armstead
"Armstead was a big swing or miss prospect coming out of college, but if early returns are any indication, the Niners may have hit a homerun," said Al Sacco in a
recent article looking at the 49ers defense
. The team is looking for he and former Oregon teammate and not 49ers teammate to bookend a defensive line that had a lot of trouble creating pressure last season.
Jimmie Ward
The 49ers cornerback has shined during offseason practices, but reportedly struggled mightily against the Texans' receivers during a joint-practice on Friday. With Ward vying for the starting cornerback job across from Tramaine Brock, it will be interesting to see how he performs in game situations – especially when asked to lock down his receiver in man coverage.
Joshua Garnett
It will be interesting to see where Garnett plays along the offensive line on Sunday. With Andrew Tiller having a good camp and being a possibility on the right side, could Garnett be working to replace free agent acquisition Zane Beadles along the left? Garnett was called the best run blocker in the draft, which is a quality that likely delights running back Carlos Hyde.
Rashard Robinson
Robinson has been a model citizen since being drafted by the 49ers. Robinson has been described as a ball-hawk as the confident cornerback looks to assert himself among the crowded and youthful group. "The confidence, it's going to continue to grow," Robinson said during the early portion of training camp. "Just got to stay hungry and humble through the whole passage."
Anthony Davis
Since returning from his year-long and drama-filled hiatus, Davis has been described by his coaches and teammates as a model citizen. Will the trimmer Davis be able regain his pre-retirement form and help solidify an offensive line that allowed 53 sacks last season? He'll have to beat out the younger and bigger Trent Brown to do so.
Of course, there are numerous others to keep an eye on. Rookies like defensive ends DeForest Buckner and Ronald Blair are just two of the names to watch for. There is also the young but crowded group of wide receivers that include Quinton Patton, Bruce Ellington, and DeAndre Smelter. Rookie running back Kelvin Taylor will also be looking to assert himself when given the opportunity throughout preseason.
Matchup Information
Kickoff:
Sunday, August 14 at 4:00 PM PT
Television:
NFL Network and KPIX
Bay Area Radio:
KGO 810 AM and The Bone 107.7 FM (
Other markets
)
Spanish Radio:
KKSF 910 AM
Preseason Series:
Texans lead series 3-1
Last Preseason Meeting:
8/15/15, Texans win, 23-10, at Hou.
Current Preseason Streak:
Lost 1
49ers Schedule:
View full schedule
Texans News:
Texans news at Problitz.com
Follow Game Online:
NFL.com's Game Center
Discuss:
Niner Talk forum
Follow Us:
Facebook
,
Twitter
,
Google+
Related News