Videos are auto-populated by an affiliate. This site has no control over the videos that appear above.
NFL Network
reporter Steve Wyche, who spent time in Santa Clara for the San Francisco 49ers' three-day minicamp earlier this month, discussed the team's quarterback situation on NFL Total Access yesterday.
As he has previously stated
, Wyche said that he believes that
Blaine Gabbert
currently has the advantage over
Colin Kaepernick
in the quarterback competition. However, that does not necessarily mean that is how it will end. Head coach Chip Kelly has already told the media that no one has the lead.
Kaepernick practiced for the first time during the team's minicamp earlier this month. While he participated in individual and 7-on-7 drills, he sat out 11-on-11 drills as he slowly works his way back from multiple surgeries.
You can watch the entire segment below.
49ers QB Battle: Colin Kaepernick vs. Blaine Gabbert
"Talking to people up there, they say that Gabbert has a great chemistry with people on the field and off the field," said Wyche. "He is one of the guys right now and that's where Kaepernick has always lagged. He has not endeared himself so much to people in the locker room."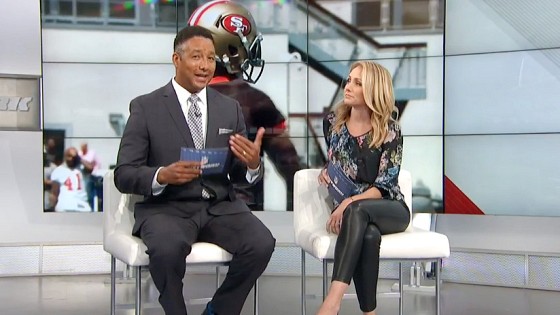 On June 9,
Kaepernick responded to those types of criticisms
by saying, "From my standpoint, I have a great relationship with my teammates. I really can't answer that for them, how they view me. That's a better question suited for them."
"[Kaepernick] seems to understand that he's not only playing for a starting job, he is playing for his career," Wyche declared. "He tried to get traded. That did not happen. He's got to come out and show and prove. It's going to be very interesting, but knowing Colin Kaepernick, knowing the dynamics of the team, this is going to be a fantastic quarterback battle."
Wyche stated that how Kelly manages the two quarterbacks in training camp and preseason games will be very telling in this quarterback competition. "I think Kaepernick's really going to give Gabbert a run here," he said.