On Sunday, the San Francisco 49ers (4-11) will host the St. Louis Rams (7-8) at Levi's Stadium in Santa Clara, California.
The Rams are coming off of a 23-17 victory against the Seattle Seahawks. The 49ers are coming off of a 32-17 defeat against the Detroit Lions.
The 49ers' disastrous 2015 season is coming to a close. Sunday's game is the last thing that stands in front of fans finding out 49ers CEO Jed York's plan to fix the numerous weaknesses on the team.
On Thursday, defensive coordinator Eric Mangini was asked if he questions whether or not he will be with the team in 2016. "Typically you find out what happens pretty quickly … We'll have some guidance with that I'm sure fairly soon after the season ends," he responded.
Former Green Bay Packers and Seattle Seahawks head coach Mike Holmgren has
once again expressed interest in the head coaching job
. While he is a fan favorite, last season, the team expressed zero interest in even discussing the job with him before they hired current head coach Jim Tomsula.
The 49ers offense ranks 31st in the league. Which is the lone team that ranks below them? That would be the 32nd ranked St. Louis Rams. However, the 49ers are averaging just 14.6 points per game, which ranks dead last in the NFL. The Rams are scoring a little more, averaging just 17.6 points per game, but have averaged more than 20 during their current three-game winning streak. The 49ers have only 23 touchdowns this season, tied for second-to-last in the league, and have only 240 first downs, ahead of only the Rams (220).
How poor is this matchup? The
game was moved to CBS
to give FOX what the league viewed as a more interesting matchup, a contest between the Oakland Raiders and Kansas City Chiefs. FOX had lost a prime matchup between the Minnesota Vikings and Green Bay Packers to Sunday Night Football.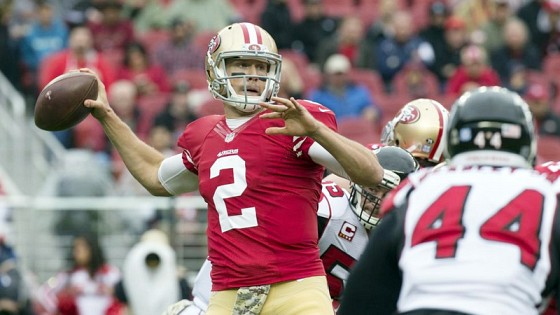 Since taking over for Colin Kaepernick during Week 9, QB Blaine Gabbert has completed 65-percent of his passes for 1,677 yards, nine touchdowns, six interceptions, and a passer rating of 86.1. Sunday's game will be the 49ers' final opportunity to evaluate Gabbert and decide if he can be a stopgap quarterback should they decide to part ways with Kaepernick.
TE Vance McDonald, who led the 49ers in receiving against the Lions, ran just 28 pass routes, but picked up five catches for 61 yards, including a touchdown. 40 of his 61 yards came after the catch. Newly signed RB DuJuan Harris finished the game with 73 yards on 11 carries. He would add 11 yards with his lone reception.
#49ers Joe Staley: "We have 1 more game left. I want to be able to finish it out the right way & then kind of put a f--- end to this season"

— Eric Branch (@Eric_Branch) January 2, 2016
While the 49ers offense had 265 yards in the first half against Detroit, they stalled in the second half with just 57 yards. The 49ers could break a franchise record for sacks on Sunday. The offensive line has allowed a league-high 52 this season, averaging 3.5 per game. The franchise record is 55.
On defense, NT Ian Williams continues to impress. He had his third consecutive game with a Pro Football Focus grade of +5.0 or more and his ninth straight positive mark. Lions RG Larry Warford had one of his worst games this season while trying to stop Williams.
| | |
| --- | --- |
| SF W16 PFF Top Performers | STL W16 PFF Top Performers |
| NT Ian Williams (+5.0) | DT Aaron Donald (+9.9) |
| TE Vance McDonald (+4.1) | DE William Hayes (+6.4) |
| LT Joe Staley (+2.2) | RG Cody Wichmann (+5.2) |
| DE Quinton Dial (+2.0) | FS Rodney McLeod (+2.0) |
| DT Mike Purcell (+1.9) | WR Kenny Britt (+1.4) |
The Rams defensive line played a stellar game against the Seahawks offensive line last week. Both DT Aaron Donald (+9.9) and DE William Hayes (+6.4) graded high at Pro Football Focus. The 49ers will need to account for this duo and try to prevent a repeat performance.
Rams QB Case Keenum received some good protection from his offensive line last week. He was pressured just five times on 25 drop backs. However, he nearly threw a couple of interceptions near the end of the game. Keenum has completed 67.7 percent of his passes, thrown three touchdowns and just one interception over the last three games.
On Saturday, the 49ers
activated rookie RB Mike Davis off of the short-term IR list
. To make room for him, the placed LB Michael Wilhoite on IR.
The Rams have an opportunity to finish 5-1 against the NFC West while a 49ers victory would give them their only win within the division. A 49ers loss would give them their worst record since finishing 4-12 in 2005.
Kickoff:
Sunday, January 3 at 1:25 PM PT
Television:
The game will be televised on CBS (Check
506 Sports
to see if it is local)
Bay Area Radio:
KGO 810 & The Bone 107.7 (
Other radio affiliates
)
Spanish Radio:
KTRB 860
Australian Radio:
Triple M
All-Time Matchup:
49ers lead series 65-64-3
Last Meeting:
11/1/15, Rams win 27-6, at StL
Current Streak:
Lost 2
Betting:
The Rams are 3 point favorites
NFL Fan Picks:
69% pick the Rams to win according to Yahoo! Sports
49ers Fan Picks:
Within our
Pick 'em Contest
, 65% believe the Rams will win
49ers Schedule:
View full schedule
Rams News:
Rams news at Problitz.com
Follow Game Online:
NFL.com's Game Center
Discuss:
Niner Talk forum
Follow Us:
Facebook
,
Twitter
,
Google+
Injury Report
Pos
Player
Injury
Status
San Francisco 49ers
DT
Quinton Dial
Back
Out
LB
Michael Wilhoite
Ankle
IR
C
Marcus Martin
Concussion
Doubtful
S
Jaquiski Tartt
Knee
Doubtful
DT
Arik Armstead
Shoulder, shin
Probable
LB
NaVorro Bowman
Shoulder, finger
Probable
CB
Tramaine Brock
Hamstring
Probable
LB
Ahmad Brooks
Shoulder, back
Probable
G
Trenton Brown
Knee
Probable
LB
Eli Harold
Finger
Probable
CB
Dontae Johnson
Ankle
Probable
RB
Bruce Miller
Foot
Probable
G
Erik Pears
Knee
Probable
S
Eric Reid
Hip
Probable
WR
Torrey Smith
Back, foot
Probable
T
Joe Staley
Knee, illness
Probable
St. Louis Rams
RB
Todd Gurley
Foot
Doubtful
T
Andrew Donnal
Knee
Questionable
S
Mark Barron
Concussion
Probable
DT
Michael Brockers
Thigh
Probable
DT
Ethan Westbrooks
Concussion
Probable
Game Averages (Rank)
| Rams | | 49ers |
| --- | --- | --- |
| 17.6 (30th) | Offense Pts | 14.6 (32nd) |
| 293.1 (32nd) | Offense Yds | 293.5 (31st) |
| 171.6 (32nd) | Offense Pass | 197.7 (30th) |
| 121.5 (8th) | Offense Rush | 95.7 (21st) |
| 20.7 (13th) | Defense Pts Allowed | 24.7 (19th) |
| 361.8 (21st) | Defense Yds Allowed | 389.0 (29th) |
| 247.7 (21st) | Defense Pass Allowed | 263.2 (25th) |
| 114.1 (20th) | Defense Rush Allowed | 125.8 (28th) |
Related Articles
Articles to be added as they become available.
Rams need more from passing game to beat 49ers
ESPN
Game Preview: 5 Things to Watch When the 49ers Host the Rams
49ers.com
49ers vs. St. Louis Rams at a glance
Sacramento Bee
Week 17 Preview: San Francisco 49ers vs. St. Louis Rams
Niner Fans
Poll
Will Jim Tomsula be back next season?

No

Yes

23 votes