San Francisco 49ers WR Anquan Boldin made his 1,000th career reception during Sunday's game against the Detroit Lions. Only 12 other receivers in NFL history, led by former 49ers great Jerry Rice (1,549), have accomplished that.
It seems fitting that Boldin's milestone came in Detroit. His first NFL reception was on a 3rd-and-2 play in the first quarter of a Week 1 road matchup against the Detroit Lions on Sept. 7, 2003.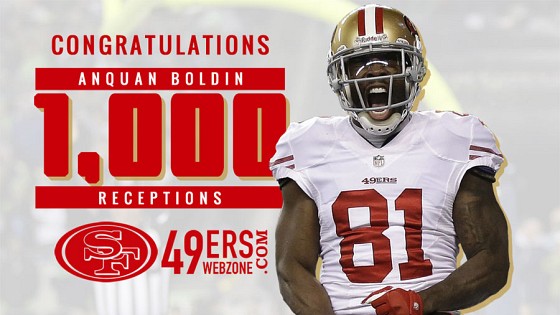 Congratulations to Boldin on his accomplishment. Boldin is scheduled to become a free agent after the season, but has expressed interest in returning to the 49ers.
"I like it here," Boldin said, via 49ers.com. "I like the people here. The organization has been great to me. I love my teammates. I enjoy them. And I have roots here, a lot of relationships that I've built in this community. When we cross that bridge, we'll cross that bridge. … No matter what age you are, you want to win a championship. That goes without saying. [But] it's deeper than that especially when you have been somewhere for a certain amount of years. You have roots."
Boldin is the leading receiver for the 49ers with 60 catches, 696 receiving yards and three touchdowns.