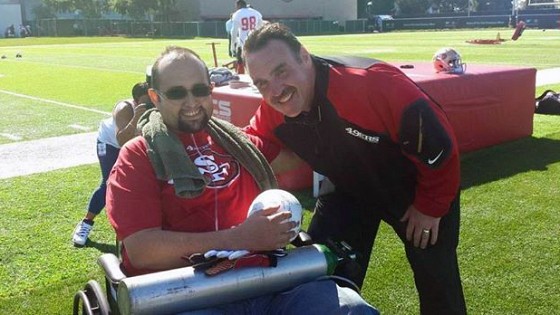 It is an honor to have been able to share Oscar Garcia's inspiring story here on 49erswebzone.com. We are sad to report that Oscar passed away yesterday. For those that have not heard
his story
, Oscar was a lifelong San Francisco 49ers fan who had been battling Sarcoma Cancer, a rare form of cancer that impacts about 10,000 people a year. After multiple surgeries and treatments, doctors gave him only a short time to live. However, I'm sure not even Oscar realized how many people his story would impact and how much support he and his family would gain during this very difficult time.
Hoping mainly to bring more awareness toward this rare form of cancer, Oscar first told his story
within our forums
. The Niner Faithful immediately began to donate to his cause to help make sure that his family had help with upcoming funeral costs. 49ers fans and even some Seahawks fans were able to help his family raise over $17,000, passing their original goal of $15,000. Because of this, Oscar was able to plan the funeral he wanted.
Fans rallied for Oscar to get recognized by the 49ers in some way and the organization certainly came through.
Oscar had one of his dreams realized when, the day prior to the 2015 NFL Draft, he was able to visit the team headquarters and meet with players, coaches, and even have lunch with owner Jed York. It was a dream come true for Oscar and the players were inspired by his story.
Oscar said the following on his GoFundMe page.
I got to meet the 49ers yesterday ... And when I say I got to meet the 49ers, i mean everyone on the 49ers. From owners Jed and Dr. John York, head coach Jim Tomsula and every position coach, To every player on the roster and every one who works for the 49ers.


We sat down for lunch and every player started greeting me. Jed and John York started talking to me. [My wife] Heather started talking to coach Jim Tomsula telling him all about my journey. Then coach decided to make me a sandwich before he gave me a personal tour of the locker room giving Heather a break, he pushed me around on my wheelchair.


Read the
whole story here
.
Prior to that, Oscar had thanked the community that had helped him so much. "I just want to thank everyone for all your donations and especially thank the 49erswebzone for all your love and support," said Oscar on his
GoFundMe page
. He added, "A few days ago i posted on a 49erswebzone forum about my story and linked my gofundme page. The next day i wake up in tears as my story gets on the front page. I have been going to this website for years and hardly ever posted anything but here they were united as fans helping me out spreading the word out on sarcoma awareness."
This morning, his wife Heather reached out to the 49erswebzone.com forum community alerting us of Oscar's passing saying, "The next few days are going to be very, very hard for me so I thank you all for making it a little easier for me." She added, "All of you have given him the funeral of his dreams. He picked out a beautiful bronze and silver casket, long stem red roses to be draped across the casket and two red rose stands on each side of him. He chose two angels to be behind his picture so they can guide him forever."
Most of the fans on this site have never met Oscar, yet he has touched our lives in more ways than he and his family realize. Oscar's bravery and outlook on life, even while facing the end, was inspiring and heroic. His family and friends will remain in our thoughts and prayers.
We invite you to pay your respects within
his thread in our forums
.
Oscar will be buried in his home town of Salinas, California. According to his wife, whatever donated money is leftover after funeral costs will be donated to Sarcome Research just as he wanted.
In addition to his wife, Oscar leaves behind two young children named Bradley and Morgan.
Below are some photos posted to Facebook of his visit with the 49ers.