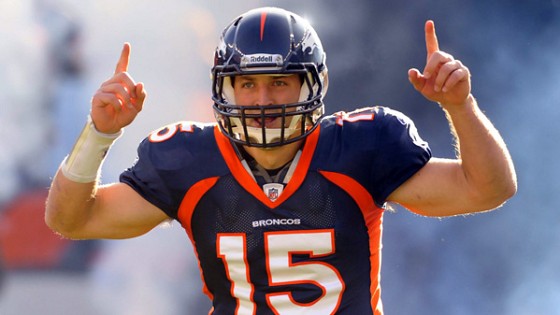 Former Denver Broncos starting quarterback Tim Tebow visited and worked out for the San Francisco 49ers this week. A post on his Twitter account gives the impression that he will likely sign with the team.
Currently, the 49ers only have two quarterbacks on the roster. Colin Kaepernick will be the starter while the only reserve is the recently re-signed Blaine Gabbert. Tebow looks to compete for the backup job.
My visit with the Niners was great. I can't wait to join and contribute to the team. Thank you for the chance.
11:33 PM - 31 Mar 2015
1,836
RETWEETS
2,377
FAVORITES
Last month, Tebow had worked out for Philadelphia, but the Eagles reportedly had no plans to sign him at the time. He last played in the NFL in 2012 and has been working for ESPN and as an analyst for the SEC Network.
Tebow was drafted out of Florida by the Broncos in the first-round of the 2010 NFL Draft. He was traded to the New York Jets during the 2012 offseason after the Broncos acquired free agent quarterback Peyton Manning. He attempted to catch on with the New England Patriots in 2013, but was unable to make the team.
The former Heisman winner has passed for 2,422 yards, 17 touchdowns, nine interceptions and a 75.3 passer rating during his brief NFL career. He also has 12 rushing touchdowns.
Kimberly Leahy
@KimberlyLeahy
Tim Tebow worked out for the 49ers yesterday. Set to sign a one-year 'prove it' contract today.
5:45 AM - 1 Apr 2015
845
RETWEETS
933
FAVORITES