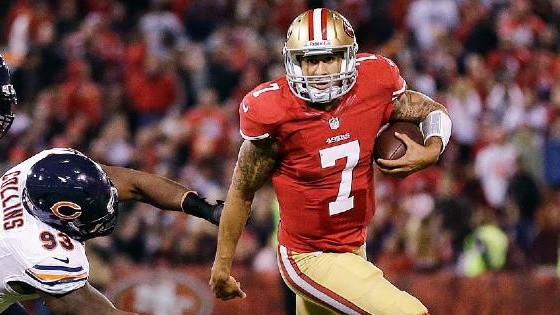 Tonight, the San Francisco 49ers will play their first regular-season game at their newly constructed $1.2 billion home, Levi's Stadium in Santa Clara, California. Their opponent will be the Chicago Bears.
Last week, the 49ers (1-0) beat the Dallas Cowboys 28-17 on the road. The Bears (0-1) lost 23-20 in overtime to the Buffalo Bills at home.
Against the Cowboys, the 49ers defense, who start the season without linebackers NaVorro Bowman or Aldon Smith, intercepted quarterback Tony Romo on three consecutive possessions, jumping to a large early lead. Defensive tackle Ray McDonald will play against the Bears. The 49ers received some scrutiny after they allowed him to play during week one while an investigation is in progress for a possible incident of domestic violence. However, no charges have been made against McDonald.
49ers quarterback Colin Kaepernick improved his overall record as a starter to 18-6 after going 16 of 23 for 201 yards against the Cowboys. His first NFL start came on November 19, 2012 and resulted in a 32-7 victory over the Bears.
Against the Cowboys, running back
Frank Gore
became the 29th player in NFL history to reach 10,000 yards for his career. Rookie running back Carlos Hyde, who has excelled as Gore's backup, rushed for 50 yards on seven carries.
The 49ers will likely be without starting cornerback Tramaine Brock, who suffered a toe injury against Dallas. Head coach Jim Harbaugh expects cornerback Chris Culliver, who left the game last week with a concussion, to play against the Bears.
For Chicago, quarterback Jay Cutler threw for 349 yards and two touchdowns. He also threw two interceptions, one of which was in the fourth quarter with the game tied.
Against the Bills, running back Matt Forte made eight catches for 87 yards and finished with 169 yards from scrimmage. The 49ers will have their hands full trying to stop him. They gave up 118 yards to Dallas' DeMarco Murray during week one.
Chicago has not beaten the 49ers in the Bay Area since 1985, the same year that they went to the Super Bowl.
The Bears will be without center Roberto Garza and left guard Matt Slauson. Wide receiver Brandon Marshall has missed some practice time with an ankle injury. While wide receiver Alshon Jeffery practiced this week, Josh Morgan has been listed as doubtful with a groin injury.
The game kicks off at 5:30 PM PT and, as usual, you can visit 49erswebzone.com for the latest news and updates during and after the game.
The 49ers are 7 point favorites.
Within Yahoo! Sports, a popular mobile scores application, 80% of fans believe that the 49ers will win this game.
Within our
Pick 'em contest
, 99% of fans believe that the 49ers will win this game.
You can follow the game live on
NFL.com's Game Center
.
You can also discuss the game with fans in the
49erswebzone.com forums
. Become a fan of 49erswebzone.com on
Facebook
and
Google+
or follow us on
Twitter
.
The game will be televised nationally on NBC.