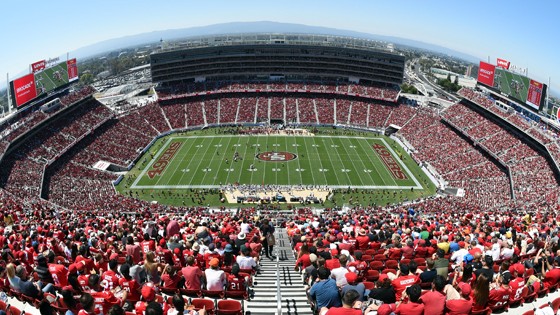 The San Francisco 49ers will host the San Diego Chargers today at Levi's Stadium in Santa Clara, California.
Last week, the 49ers (0-2) lost their second straight preseason game in a 34-0 rout against the the Denver Broncos. During the preseason, the 49ers have been outscored 57-3 and have yet to score a touchdown.
The Chargers (1-1) lost 41-14 to the Seattle Seahawks last week.
Quarterback Blaine Gabbert, who has not performed well during the preseason, is expected to once again be the 49ers' number two quarterback. He is 11 of 25 for 60 yards, no touchdowns, and two interceptions during preseason. That is a completion percentage of just 44% and a quarterback rating of 17.9.
Running back
Frank Gore
has had only two carries during preseason. Behind him has been running back Carlos Hyde, who has had 50 yards on 9 carries, an average of 5.6 yards per carry. This game will also see the return of running back LaMichael James, who has been out with a dislocated right elbow.
The game kicks off at 1:00 PM PT and, as usual, you can visit 49erswebzone.com for the latest news and updates during and after the game.
The game will be televised nationally on FOX. The 49ers are 6 point favorites.
Within Yahoo! Sports, a popular mobile scores application, 74% of fans believe that the 49ers will win this game.
Be sure to join our
NFL Pick 'em Contest
before the start of the season for bragging rights and prizes.
You can follow the game live on
NFL.com's Game Center
.
You can also discuss the game with fans in the
49erswebzone.com forums
. Become a fan of 49erswebzone.com on
Facebook
and
Google+
or follow us on
Twitter
.