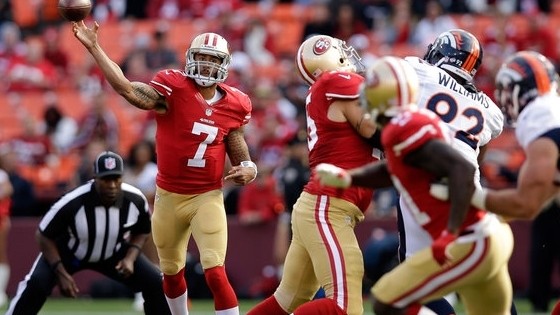 The San Francisco 49ers will make their 2014 NFL preseason home debut today in a matchup against the Denver Broncos. The game will be the 49ers' first at their new home, Levi's Stadium in Santa Clara, California.
Last week, the 49ers lost their preseason debut 23-3 to the Baltimore Ravens. The Broncos won their preseason debut with a 21-16 victory over the Seattle Seahawks.
Like last week, where he only played in one series, don't expect 49ers quarterback Colin Kaepernick to get much time on the field. It is expected that Broncos quarterback Peyton Manning will see more playing time than Kaepernick. He played two series last week against the Seahawks. Last season, Manning played five possessions in the Broncos' second exhibition game. Against the Ravens, Kaepernick completed his only pass, a 17-yard reception by tight end Vance McDonald. Against the Seahawks, Manning was 10 of 13 for 78 yards.
Quarterback Blaine Gabbert, who did not perform well last week against the Ravens, is expected to once again get a good look after Kaepernick is done.
Ian Williams was recently activated from the Physically Unable to Perform list and has been practicing with the team this week. That should bolster the team's run support on defense.
The 49ers will be looking to clear up the backup running back position. Like last week, second round draft pick Carlos Hyde is expected to get a good look. Against the Ravens, he had 39 rushing yards on five carries. Other running backs on the roster include Jewel Hampton, Alfonso Smith, and Glenn Winston.
The game kicks off at 1:00 PM PT and, as usual, you can visit 49erswebzone.com for the latest news and updates during and after the game.
The game will be televised locally on KPIX 5. It will also be broadcast nationally live on NFL Network. The 49ers are 4.5 point favorites.
Within Yahoo! Sports, a popular mobile scores application, 56% of fans believe that the 49ers will win this game.
Be sure to join our
NFL Pick 'em Contest
before the start of the season for bragging rights and prizes.
You can follow the game live on
NFL.com's Game Center
.
You can also discuss the game with fans in the
49erswebzone.com forums
. Become a fan of 49erswebzone.com on
Facebook
and
Google+
or follow us on
Twitter
.