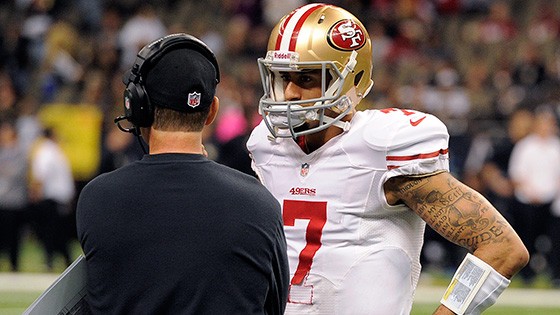 The San Francisco 49ers will open up their 2014 NFL preseason on the road against the Baltimore Ravens, a game that will take place at M&T Bank Stadium in Baltimore.
The 49ers, a strong 2014 Super Bowl contender, finished the 2013 season with a 23-17 loss to the Seattle Seahawks in the NFC Championship Game at CenturyLink Field in Seattle. They finished the regular season with a record of 12-4.
The Ravens finished the 2013 season with a record of 8-8, losing their final two games and missing the postseason.
On Tuesday, head coach Jim Harbaugh said that 49ers quarterback Colin Kaepernick would get no more than a dozen snaps at behind center against the Ravens. Don't expect many of the key starters to be in the game for very long as the 49ers already know what they have in a lot of players and don't want to risk any injuries. Kaepernick's backups are Blaine Gabbert, Josh Johnson and McLeod Bethel-Thompson.
The 49ers will be looking to clear up the backup running back position. Kendall Hunter, who was expected to be
Frank Gore
's backup, is out for the season with a torn ACL. LaMichael James will miss the preseason with a dislocated elbow. Marcus Lattimore has not yet participated in practices. Second round draft pick Carlos Hyde is expected to get a good look. Other running backs on the roster include Jewel Hampton, Alfonso Smith, and Glenn Winston.
Following today's game, the 49ers and Ravens will hold joint practices until Monday after a one day break on Friday.
The game kicks off at 4:30 PM PT and, as usual, you can visit 49erswebzone.com for the latest news and updates during and after the game.
The game will be televised locally on KPIX 5. It will also be broadcast nationally live on NFL Network. The Ravens are 1 point favorites.
Within Yahoo! Sports, a popular mobile scores application, 78% of fans believe that the 49ers will win this game.
Be sure to join our
NFL Pick 'em Contest
before the start of the season for bragging rights and prizes.
You can follow the game live on
NFL.com's Game Center
.
You can also discuss the game with fans in the
49erswebzone.com forums
. Become a fan of 49erswebzone.com on
Facebook
and
Google+
or follow us on
Twitter
.