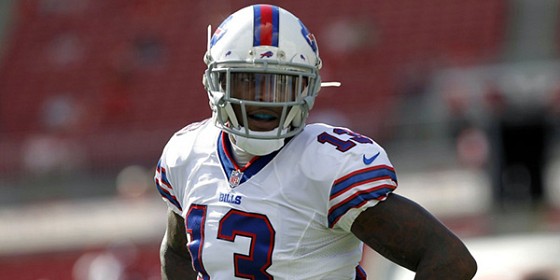 According to NFL Network, the San Francisco 49ers have traded a 2015 conditional fourth-round pick, which could become a third-round pick, to the Buffalo Bills for wide receiver Stevie Johnson.
Johnson, who was born in San Francisco, was drafted by the Bills in round 7 of the 2008 NFL Draft out of Kentucky. During his time in Buffalo, he has had 301 receptions for 3,832 yards and 28 touchdowns.
Johnson, who is 27 years old, battled through nagging injuries in 2013 and missed the final stretch of the season due to the passing of his mother.
Prior to a down 2013 season, Johnson had 79 receptions for 1,046 yards and 6 touchdowns in 2012. He became the only receiver in Bills history to record three consecutive 1,000 yard receiving seasons.
As it stands, his cap number is $8.5 million this season, $8.85 million in 2015, and $8.95 million in 2016. However, the 49ers will only be responsible for his base salary, workout bonuses, and a 2015 roster bonus. The Bills being responsible for everything else. The 49ers' responsibility becomes $3.925 million in 2014, $6.025 million in 2015, and $6.125 million in 2016.