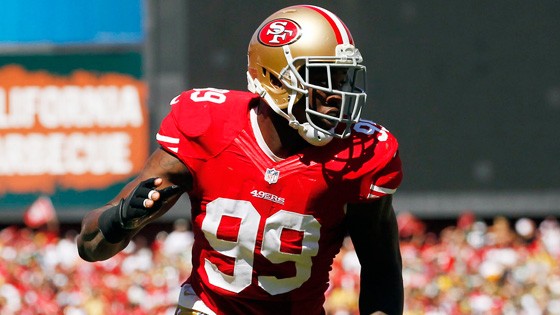 According to Cam Inman of the Mercury News, San Francisco 49ers linebacker is being booked into the LAPD Pacific Division, which is just north of Los Angeles International Airport.
Smith was arrested earlier today at LAX after, according to witnesses, he became belligerent after going through security and mentioning that he had a bomb.
The following statement was released by the airport police.
At approximately 1400 hrs, a 25-year-old male resident of San Jose, California, was going through Terminal 1 screening and was randomly selected for a secondary screening. The suspect then became belligerent and uncooperative with the process and with the TSA agent, making a comment indicating that he was in possession of a bomb before proceeding towards the gate area. Los Angeles Airport Police made contact with him at the gate and he was positively identified as the person in question. Once again the male subject became uncooperative and he was detained and taken into custody by Airport Police and is currently being transported to LAPD for booking.

The 49ers later issued the following statement regarding the arrest.
"We are disappointed to learn of the incident today involving Aldon Smith. As this is a pending legal matter and we are still gathering the pertinent facts, we will have no further comment."

TMZ released the
following amateur video
of airport police arresting Smith.
Matt Barrows of the Sacramento Bee reports
that, according to a witness, Smith engaged in an argument at the Southwest Airlines ticket counter and was told that he would not be allowed on the plane. Smith was then approached by security personnel while in line at McDonalds after he had passed through security. He then ran toward the gate, became "belligerent," and said something about a bomb before being handcuffed and taken into custody by five officers.
The above Sacramento Bee article has been updated to reflect the most recent updates to this story. Mention of the McDonalds line is now gone. There have been conflicting reports on whether Smith mentioned a bomb while going through security, at the gate, or both. Although, recent reports seem to indicate that it was at least mentioned at security. Possibly elsewhere as well.
This is just the latest incident for Smith, who has already faced two DUIs and a weapons charge since joining the 49ers. He was also involved in a San Jose car crash in 2012.
The 49ers have until May 3 to exercise Smith's fifth year option that would cost the team $9.75 million in 2015. It is unknown how this latest incident will impact the 49ers' future plans for the young linebacker.
#49ers Aldon Smith is being booked into LAPD Pacific Division, should be done within an hour, according to law enforcement source (re: LAX)

— Cam Inman (@CamInman) April 13, 2014
LAX police say Aldon Smith was booked on charges of "False report of a bomb threat." He allegedly made comment while going thru screening.

— Matt Barrows (@mattbarrows) April 14, 2014