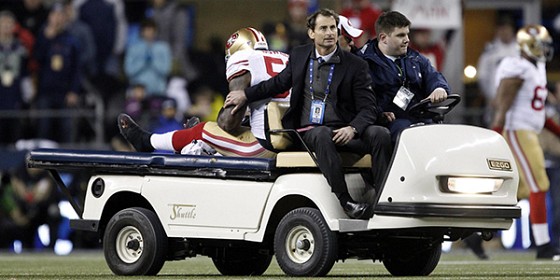 And you thought Richard Sherman's bizarre outburst during a post game interview was classless (or him going off on Crabtree in the end zone ... or anything that Sherman does), Seattle Seahawks fans may have topped that.
David Fucillo of
Niners Nation
mentioned on Facebook that Seahawks fans were apparently throwing food at San Francisco 49ers star linebacker, and perhaps the best defensive player in the NFL this season, NaVorro Bowman while he was being carted off with what appears to be a torn ACL.
The injury occurred late in the game. What is amazing about the play is that Bowman held on to a fumble recovery despite the injury. Although, the refs didn't rule it a turnover and instead left the ball with Seattle. The 49ers would recover another fumble on the next play.
NFL.com's Gregg Rosenthal described the injury like this:
Bowman's leg bent backward unnaturally, a horrific injury that was replayed too many times.