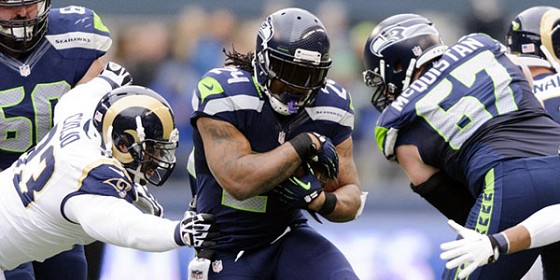 All 49ers fans are likely keeping their eyes on the week 17 matchup between the St. Louis Rams and Seattle Seahawks. At the end of three quarters, the Rams trail the Seahawks 20-3.
Should the San Francisco 49ers hang on to beat the Arizona Cardinals, and the Rams come back to beat the Seahawks, then it would be the 49ers who would win the NFC West and earn a bye week in the playoffs. The 49ers currently lead the Cardinals 17-10 in Glendale, Arizona.
The 49ers lost out on home-field advantage throughout the NFC playoffs when the Carolina Panthers beat the Atlanta Falcons earlier today.
A 49ers victory and a Rams loss would guarantee them the 5th seed in the NFC playoffs and they would play on the road in a Wildcard game on January 4th or 5th.
A 49ers loss would give them the 6th seed in the NFC playoffs.