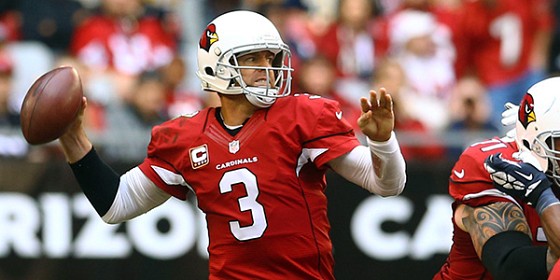 This afternoon, the San Francisco 49ers will travel to the University of Phoenix Stadium in Glendale, Arizona to face the Cardinals in the final game of the regular season. The two teams last met on October 13th at Candlestick Park where the 49ers won 32-20.
Offensively, the 49ers are ranked 24th in the league while the Cardinals are ranked 21st. Defensively, the 49ers are ranked 3rd in the league while the Cardinals are ranked 9th.
The 49ers can't worry about what is happening around them and will face this game as a must-win situation. While the team is guaranteed at least the sixth seed in the NFC playoffs, a victory coupled with a little help from St. Louis and Atlanta could move them as high as the first seed.
The 49ers will look to capitalize on Carson Palmer, who needs just 133 yards to become the first player in NFL history to throw for 4,000 yards with three different teams. The 49ers defense has recorded an interception in seven straight games and recorded two against the Atlanta Falcons on Monday night. They also have 16 sacks during their last five games, which were all victories.
Today's game will also be Anquan Boldin's first game back at Arizona since he left the Cardinals for Baltimore following the 2009 season.
The Cardinals are simply trying to make the playoffs. Despite their 10 wins, they will need a victory over the 49ers and a little help themselves. They need the Tampa Bay Buccaneers to upset the Saints in New Orleans, where the Saints are 7-0 this season, in order to make it in.
The Cardinals have won seven of their last eight games and can tie the franchise record for most wins with their 11th victory, last achieved in 1975.
The 49ers can clinch a first-round bye in the NFC playoffs with a win and Seahawks loss.
The 49ers can clinch the NFC West and the No. 1 seed with a win, a Seahawks loss, and a Panthers loss.
Last week, the 49ers (11-4) defeated the Atlanta Falcons 34-24. The Cardinals (10-5) defeated the Seattle Seahawks 17-10, the Seahawks' first loss at home in nearly two years.
The game kicks off at 1:25 PM PT and, as usual, you can visit 49erswebzone.com for the latest news and updates during and after the game.
The game will be televised on FOX. The spread is even.
Within Yahoo! Sports, a popular mobile scores application, 64% of fans believe that the 49ers will win this game.
Within our
Pick 'em contest
, 92% of fans believe that the 49ers will win this game.
You can follow the game live on
NFL.com's Game Center
.
You can also discuss the game with fans in the
49erswebzone.com forums
. Become a fan of 49erswebzone.com on
Facebook
and
Google+
or follow us on
Twitter
.
49ers Injury Report
Out:
WR Mario Manningham (knee)
Questionable:
LB Dan Skuta (foot)
Probable:
LB Navorro Bowman (wrist), CB Tarell Brown (ribs), WR Michael Crabtree (wrist, ankle), C Jonathan Goodwin (not injury related), RB
Frank Gore
(knee), G Mike Iupati (knee), TE Vance McDonald (ankle), WR Kassim Osgood (shin), DT Justin Smith (shoulder)
Cardinals Injury Report
Questionable:
LB John Abraham (groin), G Daryn Colledge (back), S Rashad Johnson (ankle)
Probable:
DT Darnell Dockett (shoulder), TE Rob Housler (groin), RB Rashard Mendenhall (finger), QB Carson Palmer (right elbow, ankle), T Nate Potter (ribs), LB Matt Shaughnessy (groin), QB Drew Stanton (knee), LB Daryl Washington (ankle)
Article photo by Mark J. Rebilas of USA Today Sports