In case you somehow did not hear about this, San Francisco 49ers fans successfully
raised over $11,000
to create a billboard meant to mock Seattle Seahawks fans. Whether you agree with it or not, the billboard is up and sits near the I-5, about 20 minutes south of Seattle. The goal was $7,000 and the remaining money will be contributed to Seattle's Children's Hospital. The billboard ad will remain up for five weeks, which will leave it up past the NFC Championship game.
"Its not hidden at all. Anyone driving North on I-5 will NOT miss it. Mission accomplished, big time" said 49ers fan Joshua Putnam.
The rivalry, one of the best in the NFL, got heated when Seahawks fans
tried to purchase a commemorative engraved brick
within the Fanwalk at Levi's Stadium that read "Go Hawks."
Then, prior to the start of the 49ers and Seahawks game at Candlestick Park on December 8, Seahawks fans successfully raised enough money to
fly a banner
that read "Go Hawks 12!" over the stadium in order to mock 49ers fans.
Below are some photos of the 49ers ad meant to mock Seahawks fans, which is actually part of an electronic rotating billboard.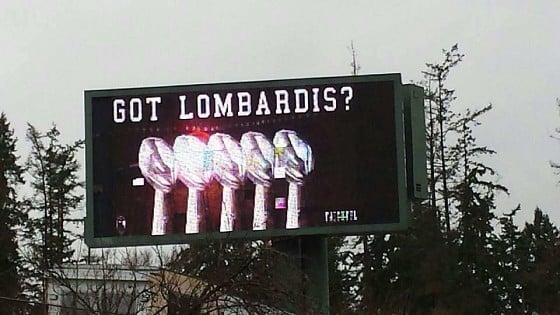 The following is a photo courtesy of Gerard Rael.
Below is an image from the official Facebook group page that shows the second ad in more detail.

What do you think of this stunt? Have 49ers fans stooped to the Seahawk fans' level or was this well deserved? Leave a comment below.