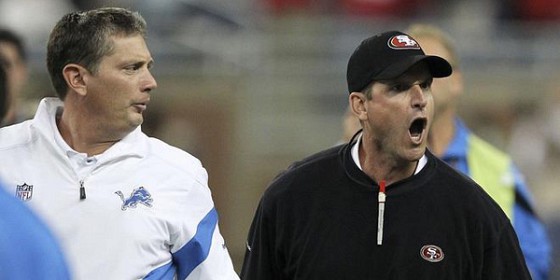 Not much has changed since last week. To give you a better picture of the 49ers' current postseason standings, here is the playoff scenario if the season were to end today. The 49ers would have grabbed the final spot in the NFC and would be traveling to Detroit to face the Lions in a Wildcard game on either January 4 or 5.
NFC PLAYOFF PICTURE
Byes:
Seattle Seahawks (1st seed), New Orleans Saints (2nd seed)
Wildcard Game:
Carolina Panthers (5th seed) at Dallas Cowboys (4th seed)
Wildcard Game:
San Francisco 49ers (6th seed) at Detroit Lions (3rd seed)
A 49ers (8-4) win in Detroit would send them to Seattle to face the Seahawks on either January 11 or 12. Also in the hunt for the 6th seed spot are the Arizona Cardinals (7-5), Philadelphia Eagles (7-5), and Chicago Bears (6-6).
AFC PLAYOFF PICTURE
Byes:
Denver Broncos (1st seed), New England Patriots (2nd seed)
Wildcard Game:
Kansas City Chiefs (5th seed) at Cincinnati Bengals (4th seed)
Wildcard Game:
Baltimore Ravens (6th seed) at Indianapolis Colts (3rd seed)