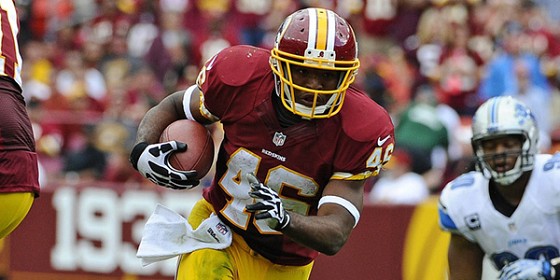 Tonight, the San Francisco 49ers will travel to Landover, Maryland to face the Washington Redskins at FedExField. The two teams last met on November 6, 2011 when the 49ers beat the Redskins 19-11 in Landover.
Offensively, the 49ers are ranked 29th in the league while the Redskins are ranked 6th. Defensively, the 49ers are ranked 7th in the league while the Redskins are ranked 28th.
Both Colin Kaepernick and Robert Griffin III shocked fans with their dynamic play in 2012. This season has been a letdown for both quarterbacks. Last season, the 49ers and Redskins both won their respective divisions. This season, both teams are trying to get back to winning and hoping to avoid dropping their third straight game. Kaepernick has a quarterback rating of 81.8 while Griffin is slightly higher at 83.6. Neither rating is impressive. That is a huge downgrade from the expectations for each player.
Kaepernick has surpassed 200 yards passing only twice this season and has not done it since week 6. Whether it is accurate or not, a lot of the blame in San Francisco has been placed on his shoulders. He could regain some confidence against the Redskins, who rank 26th against the pass.
Griffin has had his leadership skills under scrutiny this week after some post-game comments following a 24-16 loss to the Philadelphia Eagles when he seemed to exonerate himself from all blame.
A positive for both teams are their rushing attacks.
Frank Gore
has led a 49ers team that is rushing for 141 yards per game. Alfred Morris has led a Redskins team that is rushing for 155 yards per game.
The 49ers are fighting for a wildcard spot in the playoffs with multiple teams, including division opponent Arizona, who after a win over the Indianapolis Colts on Sunday, sit at 7-4. The 49ers must win in order to keep up.
Last week, the 49ers (6-4) were defeated 23-20 by the New Orleans Saints. The Redskins (3-7) were defeated by the Philadelphia Eagles 24-16.
The game kicks off at 5:40 PM PT and, as usual, you can visit 49erswebzone.com for the latest news and updates during and after the game.
The game will be televised on ESPN. The 49ers are 4 point favorites.
Within Yahoo! Sports, a popular mobile scores application, 79% of fans believe that the 49ers will win this game.
Within our
Pick 'em contest
, 98% of fans believe that the 49ers will win this game.
You can follow the game live on
NFL.com's Game Center
.
You can also discuss the game with fans in the
49erswebzone.com forums
. Become a fan of 49erswebzone.com on
Facebook
and
Google+
or follow us on
Twitter
.
49ers Injury Report
Out:
WR Quinton Patton (foot), CB Tarell Brown (ribs), G Mike Iupati (knee)
Questionable:
TE Garrett Celek (hamstring), DT Ray McDonald (ankle), WR Mario Manningham (knee)
Probable:
DT Quinton Dial (ankle), RB Frank Gore (ankle), QB Colin Kaepernick (back), LB Dan Skuta (foot), DT Justin Smith (shoulder)
Redskins Injury Report
Out:
TE Jordan Reed (concussion)
Questionable:
DE Stephen Bowen (knee), S Jose Gumbs (ankle), RB Darrel Young (hamstring)
Probable:
CB E.J. Biggers (knee), CB Josh Wilson (toe)
Article photo by Brad Mills of USA Today Sports