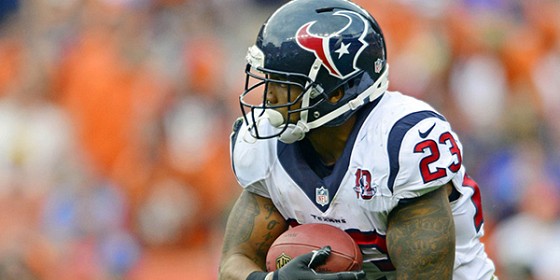 Tonight, the San Francisco 49ers will host the Houston Texans at Candlestick Park for Sunday Night Football. The two teams last met during the regular season in October of 2009 when the Texans beat the 49ers with a 24-21 in Houston. The only other time the two teams met during the regular season was in 2005 when the 49ers won 20-17 in overtime.
Texans quarterback Matt Schaub has an unlucky streak going. In his past seven games, including the playoffs last season, he has thrown at least one interception. In three of those games, he threw two interceptions. He is hoping to break that streak against the 49ers.
The 49ers got their offense back on track last week and hope to continue that production against the Texans. The offense was only able to score one combined touchdown during weeks two and three, but got into the endzone five times last week against the Rams. They did it with a strong running game by
Frank Gore
, who rushed for 153 yards.
Last week, the 49ers (2-2) defeated the St. Louis Rams 35-11. The Texans (2-2) were defeated 23-20 by the Seattle Seahawks.
For the 49ers, WR Quinton Patton (foot) is out. CB Nnamdi Asomugha (knee), OT Anthony Davis (shoulder), TE Vernon Davis (hamstring), DT Ray McDonald (ankle, ankle), RB Bruce Miller (quadricep), CB Carlos Rogers (knee), DT Justin Smith (shoulder), and LB Patrick Willis (groin) are listed as questionable. TE Demarcus Dobbs (calf), G Mike Iupati (shoulder), T Joe Staley(hamstring, ankle), and WR Kyle Williams (knee) are listed as probable.
For the Texans, G Brandon Brooks (toe) and LB Tim Dobbins (hamstring) are out. T Duane Brown (toe) and WR Andre Johnson (shin) are listed as questionable. LB Bryan Braman (hamstring, shoulder), LB Brian Cushing (concussion), TE Owen Daniels (knee), RB Arian Foster (thumb, back), TE Garrett Graham (hip, groin), RB Greg Jones (foot, groin), CB Johnathan Joseph (not injury related), CB Brice McCain (knee), C Chris Myers (biceps), T Derek Newton (knee), S Eddie Pleasant (hamstring), WR DeVier Posey (achilles), S Ed Reed (hip, abdomen), LB Darryl Sharpton (foot, hip), GWade Smith (knee), RB Ben Tate (shoulder), and DE J.J. Watt (groin, nose) are listed as probable.
The game kicks off at 5:30 PM PT and, as usual, you can visit 49erswebzone.com for the latest news and updates during and after the game.
The game will be televised nationally on NBC.
Within Yahoo! Sports, a popular mobile phone scores application, 70% of fans believe that the 49ers will win this game.
Within our
Pick 'em contest
, 93% of fans believe that the 49ers will win this game.
You can follow the game live on
NFL.com's Game Center
.
You can also discuss the game with fans in the
49erswebzone.com forums
. Become a fan of 49erswebzone.com on
Facebook
and
Google+
or follow us on
Twitter
.
Article photo by Ron Chenoy of USA Today Sports