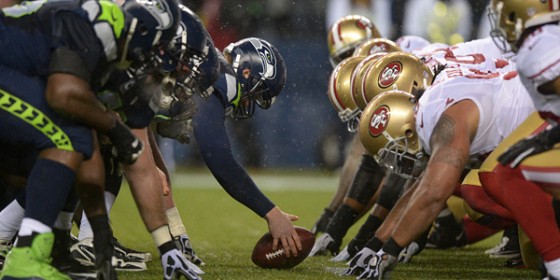 Tonight, the San Francisco 49ers will travel to Seattle to play the Seahawks at CenturyLink Field. The 49ers and Seahawks each won their home matchup against the other in 2012.
The most recent matchup was a 42-13 win by the Seahawks in Seattle on December 23 of 2012. This series will continue the ongoing rivalry of Jim Harbaugh and Pete Carroll, a rivalry that started in college. It will also feature a showdown between two of the most dynamic quarterbacks in the league in the 49ers' Colin Kaepernick and the Seahawks'
Russell Wilson
.
Another interesting matchup to watch will be Anquan Boldin and whoever lines up across from him. Will it be the Seahawks' best corner Richard Sherman or will the 49ers try to avoid Sherman by lining Boldin up all over the field as they did against the Packers last week? Boldin had 13 catches for 208 yards and a touchdown against Green Bay.
Last week, the 49ers (1-0) beat the Green Bay Packers 34-28. The Seahawks (1-0) also won their season opener 12-7 over the Carolina Panthers.
For the 49ers, RB LaMichael James (knee) is listed as questionable. For the Packers, DT Jordan Hill (biceps) is out. CB Brandon Browner (hamstring) and S Jeron Johnson (hamstring) are doubtful. DE Chris Clemons (knee) is questionable. DE Cliff Avril (hamstring), T Michael Bowie (shoulder), DT Tony McDaniel (groin), DT Brandon Mebane (ankle), WR Sidney Rice (knee) and TE Luke Willson (oblique) are probable.
The game kicks off at 5:30 PM PT and, as usual, you can visit 49erswebzone.com for the latest news and updates during and after the game.
The game will be televised on NBC.
Within Yahoo! Sports, a popular mobile phone scores application, 64% of fans believe that the 49ers will win this game.
Within our
Pick 'em contest
, 86% of fans believe that the 49ers will win this game.
You can follow the game live on
NFL.com's Game Center
.
You can also discuss the game with fans in the
49erswebzone.com forums
. Become a fan of 49erswebzone.com on
Facebook
and
Google+
or follow us on
Twitter
.
Article photo by Kirby Lee of USA Today Sports