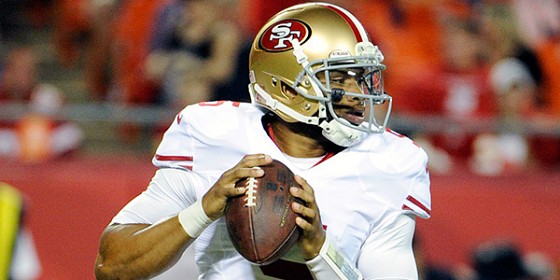 Tonight, the San Francisco 49ers will travel to San Diego to play the Chargers at Qualcomm Stadium in the team's final preseason game. As is typically the case during the final preseason game of the year, most starters will see little to no playing time. With the final roster cuts coming up on Saturday, backups will be fighting for jobs on each team and trying to catch other teams' eyes should they not make the 49ers or Chargers rosters.
This is Mike McCoy's first season as the head coach of the Chargers. Last season, the Chargers finished 7-9, missing the playoffs for a third consecutive season. The Chargers also have a familiar face at offensive coordinator in Ken Whisenhunt, who spent the previous six seasons at the helm of the Arizona Cardinals.
The Chargers are coming off of a 24-7 win over the Cardinals on Saturday.
This week, it was announced that Eric Reid, the safety selected by the 49ers in the first round of the NFL Draft, would be starting for the team next to veteran Donte Whitner. In addition to that, Nnamdi Asomugha won the 3rd cornerback battle. There is also a battle going on between B.J. Daniels and Seneca Wallace for the third quarterback position. It was reported earlier this week that Colt McCoy would likely be Colin Kaepernick's backup during the regular season. It was rumored earlier in the week that the team was looking to trade McCoy, who took a pay cut to remain with the team.
The 49ers are coming off of a decisive 34-14 win over the Minnesota Vikings on Sunday.
Tonight's matchup will mark the 12th straight year that the Chargers and 49ers have closed out the preseason against each other.
The game kicks off at 7:00 PM PT and, as usual, you can visit 49erswebzone.com for the latest news and updates during and after the game.
The game will be televised locally in the Bay Area on CBS (KPIX) and nationally on NFL Network.
Within Sportstacular, a popular mobile phone scores application, 83% of fans believe that the 49ers will win this game.
You can follow the game live on
NFL.com's Game Center
.
You can also discuss the game with fans in the
49erswebzone.com forums
. Become a fan of 49erswebzone.com on
Facebook
and
Google+
or follow us on
Twitter
.
Article photo by John Rieger of USA Today Sports