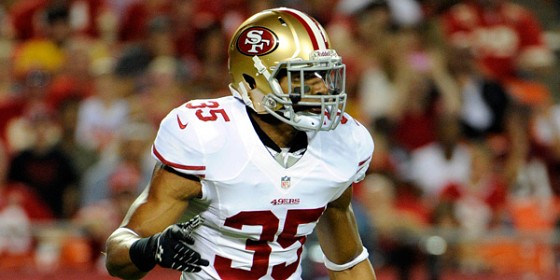 The safety competition appears to be over. According to the San Francisco 49ers, Eric Reid has been named the starting free safety for the team. Reid was drafted out of LSU with the 18th overall pick in this year's NFL Draft.
Earlier today, it was
reported by 49ers.com
that Reid got a vote of confidence from teammate Donte Whitner. "He was calm, cool, collected," Whitner said. "He made a lot of calls, did a lot of communicating, tackled well."
Sunday against the Minnesota Vikings was Reid's first preseason start and the team feels confident enough in him to start him during week 1 against the Green Bay Packers.
Reid replaces safety Dashon Goldson, who signed with the Tampa Bay Buccaneers during the offseason.
Article photo by John Rieger of USA Today Sports