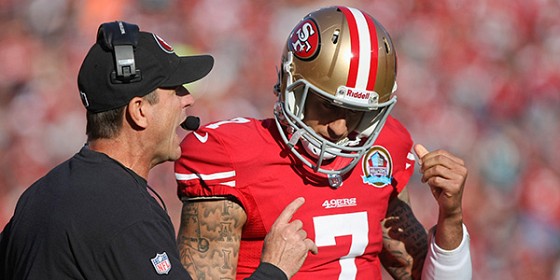 Tonight, the 49ers will host the Minnesota Vikings at Candlestick Park in San Francisco. It will be the third preseason game for both teams and the 49ers' second and final preseason game at Candlestick Park.
For the Vikings, Adrian Peterson, the reigning NFL MVP, will make his first appearance of the 2013 preseason. The last time the two teams met was during week 3 of the 2012 season when Peterson was held to 86 rushing yards. However, the 49ers lost the game 24-13.
Last week, the Vikings lost to the Buffalo Bills by the score of 20-16.
This week, the 49ers signed veteran quarterback Seneca Wallace, who has previously spent time with the Seattle Seahawks, Cleveland Browns, and briefly, the New Orleans Saints. He will join Scott Tolzien, Colt McCoy and B.J. Daniels in the team's backup quarterback battle. It is highly unlikely that the team will retain more than two of these players to backup starting quarterback Colin Kaepernick. Yesterday, head coach Jim Harbaugh said that all five quarterbacks would get some play time in today's game.
Another Niner to watch would be wide receiver Jon Baldwin (No. 84), who the team acquired earlier in the week via a trade that sent A.J. Jenkins to the Kansas City Chiefs.
Last week, the 49ers beat the Kansas City Chiefs by the score of 15-13.
The game kicks off at 5:00 PM PT and, as usual, you can visit 49erswebzone.com for the latest news and updates during and after the game.
The game will be televised nationally on NBC.
Within Sportstacular, a popular mobile phone scores application, 82% of fans believe that the 49ers will win this game.
You can follow the game live on
NFL.com's Game Center
.
You can also discuss the game with fans in the
49erswebzone.com forums
. Become a fan of 49erswebzone.com on
Facebook
and
Google+
or follow us on
Twitter
.
Article photo by Kelly L Cox of USA Today Sports