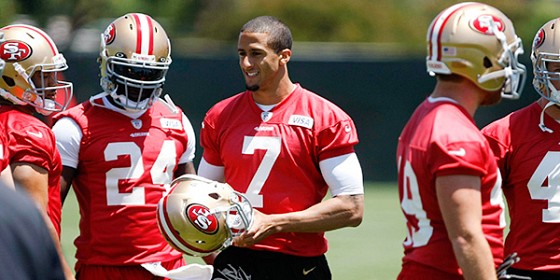 Training camp will open for the San Francisco 49ers this week. Rookies reported to the team's headquarters in Santa Clara on Friday, July 19. Veterans will arrive on Wednesday, July 24. The team's first full practice will be held on Thursday, July 25. Rookies will begin practices today.
Stories about hats and magazine spreads will likely start to take a backseat to real football related news.
One of the more interesting camp battles to keep an eye on will be at the cornerback position. The 49ers have been stocking up on corners during this offseason. The group already included Carlos Rogers, Tarell Brown, Chris Culliver, Perrish Cox and Tramaine Brock. The 49ers also added free agent Nnamdi Asomugha and traded for Eric Wright. Rogers has one of the largest cap figures on the team this season and it will be interesting to see what happens if he can't hold on to his starting role.
Another key position to watch will be at the wide receiver position. It looked strong after the 49ers acquired Anquan Boldin in a trade on March 11. However, the 49ers lost starting receiver Michael Crabtree to a torn Achilles, which will keep him out of the lineup for the majority of the season. That will leave players like Mario Manningham, Kyle Williams, A.J. Jenkins, Ricardo Lockette, Quinton Patton and others to compete for spots in the depth chart.
Quarterback Colin Kaepernick is expecting to see some locker room pranks due to his nude appearance in ESPN The Magazine's Body issue. Prior to that, he received some negative comments for wearing a Miami Dolphins hat. he will finally be able to put all of that aside and prove on the field that last year was not a fluke.
The team also awaits word on a possible punishment for linebacker Ahmad Brooks due to an assault on a fellow teammate. A punishment could come from the NFL or even the 49ers themselves.
What are you looking for out of training camp? Leave your comments below.
Article photo by Kelley L. Cox of USA TODAY Sports