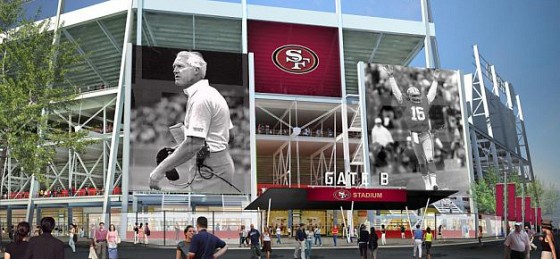 On Tuesday, it was announced that the Bay Area will help the Super Bowl celebrate a half-century of existence as they will host Super Bowl L at the new home of the San Francisco 49ers in 2016. The game will be held at Levi's Stadium in Santa Clara.
The competition to acquire Super Bowl L was between San Francisco, California and Miami, Florida. Numerous setbacks in Miami made the Bay Area the favorite to gain the year's biggest sporting event.
While the game itself will be held at Levi's Stadium in Santa Clara, many of the pre-game events will be held in the city of San Francisco, which is just 45 miles north of the 49ers' new home.
Levi's Stadium, at an estimated cost of $1.2 billion, is currently being constructed and is scheduled to be completed in time for the 2014 season. Super Bowl L will be the first time in 28 years that the game will be played in the Bay Area and the first time since 2003 that the game will be played in California. The first Super Bowl was also played in California in Los Angeles. With today's announcement, it is also fitting to mention that the last time a Super Bowl was in the Bay Area was in 1985 at Stanford Stadium when the 49ers beat the Miami Dolphins.
Companies like Apple, Google and Hewlett-Packard helped the Bay Area's Super Bowl committee line up $30 million dollars in funding. A total of $8 million of that will go to Bay Area charities.
Minutes after losing the bid for Super Bowl L, Miami went on to lose the next vote for Super Bowl LI to Houston, Texas.
Official Super Bowl L announcement