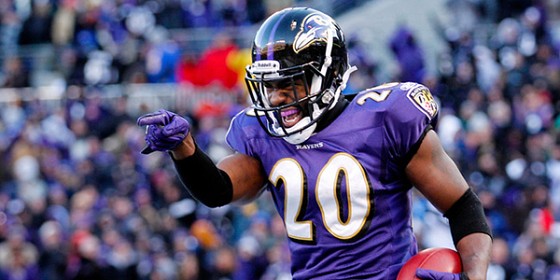 The San Francisco 49ers have already acquired one Baltimore Raven, trading a sixth-round pick for Anquan Boldin. They may be trying to acquire a second member of the team that beat them in the Super Bowl back in February.
Pro Football Talk
has said that a league source with extensive knowledge of the current market for safeties believes that the 49ers could work out a deal with safety Ed Reed.
Reed has hired Athletes First to represent him in negotiations. Reed's new agent, David Dunn, also represents 49ers head coach Jim Harbaugh and general manager Trent Baalke.
Before Reed had an agent, he was unable to work with any teams prior to the start of free agency on Tuesday at 1 PM. However, he can now begin negotiations prior to the start of free agency.
While the 49ers are believed to be one of the teams in the mix for safety Dashon Goldson, it is becoming more and more unlikely that he will return to the team. The Philadelphia Eagles, Detroit Lions and Tampa Bay Buccaneers are assumed to be ahead of San Francisco in the race for his services. The $6 million owed to Boldin may have priced Goldson out of San Francisco. This may open the door for Reed to come to the 49ers.
The 34 year old Reed was drafted in the first round of the 2002 NFL Draft. He has been selected to nine Pro Bowls, was the 2004 NFL Defensive Player of the Year Award winner, and holds the all-time NFL record for interception return yards, currently at 1,506.
Listed at 5-11 and 205 lbs, Reed had 58 tackles, 4 interceptions and a touchdown last season.