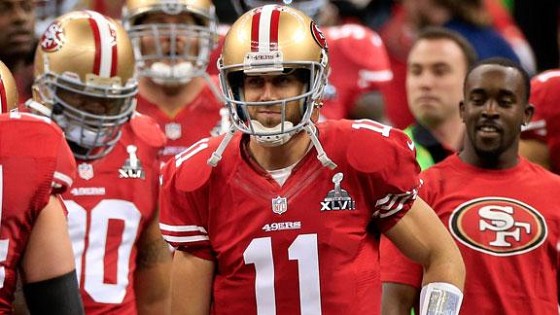 According to Jay Glazer of FOX Sports, a deal to trade San Francisco 49ers quarterback Alex Smith to Kansas City is done. The deal would send a pair of draft selections to the 49ers as compensation for Smith, who completed 153 of his 218 passes for 1,737 yards and 13 touchdowns in nine starts.
@JayGlazer on Twitter
49ers have completed a trade with the Chiefs for Alex Smith, tho can't be official til March 12. Chiefs really made a commitment to Smith
Tim Kawakami of The Mercury News is reporting that the 49ers may have received two draft selections. The first being a second round pick in this year's NFL Draft, which is the 34th overall selection (second pick of the second round). The second being a similar selection in next year's NFL Draft.
@timkawakami on Twitter
An NFL source says that the framework of the deal is that the 49ers will get a No. 2 pick this year and a similar pick in the 2014 draft.
Get ready to cheer on Alex Smith in a Chiefs uniform because the "similar" selection for next year would be a conditional pick, based on his performance in the upcoming season. Kawakami later noted on Twitter that, according to an NFL source, the 2014 pick moves from a 3rd rounder to 2nd rounder if Chiefs win a certain number of games.
Jason La Canfora of CBS Sports, earlier reported that the 49ers had a deal in place with an NFL team, but was unable to confirm the team name at the time.
The Chiefs felt that there were not any great options at quarterback in the NFL Draft or free agency and wanted to upgrade the quarterback position on their team. In late January, it was reported that new Chiefs head coach
Andy Reid really liked Smith
.
While the deal can't be made official until the league year starts on March 12, according to Glazer, the Chiefs have made a "clear commitment" to Smith. Glazer's suggests that a new contract could be coming for Smith, who was due $8.5 million in the final year of his deal and Matt Cassel is expected to be released by the Chiefs.
Smith, who was the number one selection in the 2005 NFL Draft, lost his starting job to Colin Kaepernick after suffering a concussion. The Chiefs were said to be very impressed with the way Smith handled the situation, which may work well for them if the team were to draft a 'quarterback of the future' in this year's NFL Draft.
If these reports are true, the 49ers now have at least five picks in the first three rounds of this year's NFL Draft, including selections 31 and 34 overall. They would also have 15 picks overall, which includes their three compensatory selections.
49ers safety Donte Whitner had this to say about today's events.
@DonteWhitner on Twitter
Good luck to Mr. Alex Smith. I know you'll do great under Andy Reid in KC. The ultimate pro!
Joe Staley, one of Smith's closest friends on the team, had this to say.
@jstaley74 on Twitter
Best of luck to Alex in KC. Amazing teammate, friend, and person. I know he will do great things there.

Alex Smith joins Joe Montana, Steve Bono, and Elvis Grbac as a quarterback who went directly from San Francisco to Kansas City.
More on the Alex Smith Trade
San Francisco 49ers agree to trade Alex Smith to Chiefs
- NFL.com
Source: 49ers agree to trade Smith to Chiefs
- ESPN
Smith to Chiefs for a 2nd-round pick, and similar pick in 2014
- The Mercury News
Reports: 49ers will trade Smith to Chiefs for huge haul
- San Francisco Chronicle
Reports: Smith off to KC; 49ers to haul in draft picks
- Sacramento Bee
Report: 49ers, Chiefs have deal in place for Smith
- CSN Bay Area
Alex Smith traded to Chiefs, according to reports
- Niners Nation