Upper Deck 2009 NFL Rookie Touchdown Dance Challenge
May 28, 2009 at 7:26 AM
•
--
San Francisco 49ers rookies Michael Crabtree, Nate Davis, and Glen Coffee participate.
More San Francisco 49ers News
Robert Saleh, Nick Bosa look forward to the challenge of stopping 49ers legend Frank Gore on Sunday
Everyone in the NFL has a tremendous amount of respect for Frank Gore. He remains a fan-favorite in the Bay Area, even this week as the San Francisco 49ers prepare to face the New York Jets at MetLife Stadium. Gore is in his 16th NFL season. The future Hall of Fame running back figures to be a significant part of the Jets offense this weekend with Le'Veon Bell on injured reserve. Head coach Adam Gase confirmed this week that the 37-year-old running back would start against the 49ers — the team that drafted Gore in 2005. Second-year defensive end Nick Bosa was seven years old when Gore took his first NFL snap. His defense will try to stop the veteran running back on Sunday. Bosa, now 22, was asked about Gore after Thursday's practice and whether
49ers-Jets: Watch rookie Brandon Aiyuk steal first NFL catch
San Francisco 49ers rookie wide receiver Brandon Aiyuk made his first NFL catch on Sunday against the New York Jets. It was an eight-yard gain on a pass from quarterback Jimmy Garoppolo. Aiyuk stole the reception from Kendrick Bourne, though, as he stepped in front of his teammate to haul in the pass. Watch #49ers rookie wide receiver @THE2ERA make his first NFL catch.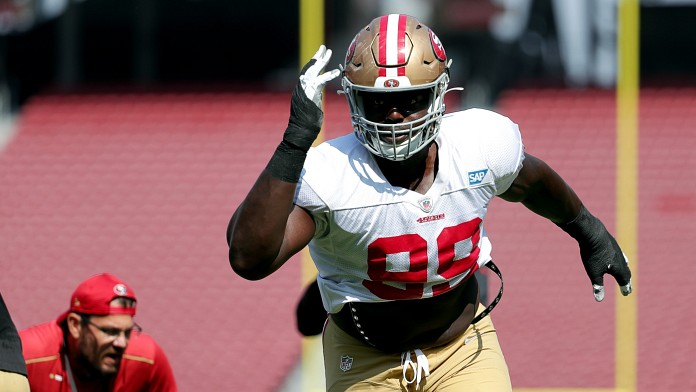 49ers rookie Javon Kinlaw has 'unlimited upside,' says Baldy
San Francisco 49ers rookie defensive tackle Javon Kinlaw didn't walk away from his NFL debut with gaudy statistics. He was credited with just one tackle during Sunday's loss to the Arizona Cardinals. Still, Pro Football Focus graded the young defender as the fourth-best 49ers player from Week 1 and felt he had the third-best debut by an NFL rookie. NFL Media analyst Brian Baldinger was impressed by Kinlaw's performance against the Cardinals and shared a little film breaking down why he feels that way. He called the young defender an "incredible prospect with
Featured
More Featured Stories
Trending News
49ers Webzone • 20 hrs ago

49ers Webzone • 18 hrs ago

49ers Webzone • 14 hrs ago

49ers Webzone • 15 hrs ago

49ers Webzone • 13 hrs ago

49ers Webzone • 20 hrs ago
More News