49ers CB Robinson on pace to return to action against Bucs
Oct 20, 2016 at 11:30 AM
•
--
SANTA CLARA Rookie cornerback Rashard Robinson appears to be on pace to be cleared to return to action for Sunday's game.Robinson was cleared for non-contact football activity for Thursdays practice, the next to last step to be cleared to return to play from the NFLs concussion protocol. Robinson was on the 49ers practice field wearing a blue jersey to signify that he is off-limits for contact.
Facebook Comments
More San Francisco 49ers News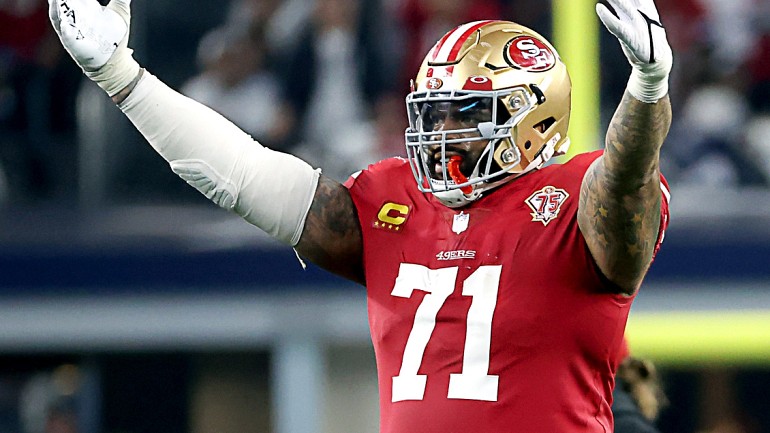 NFL analyst believes 49ers' offensive line has "high-end potential"
The San Francisco 49ers have faced some serious roster turnover with their offensive line, as left guard Laken Tomlinson went to the New York Jets in free agency, while center Alex Mack chose to retire after one season with the organization. In addition, right tackle Mike McGlinchey is coming off a torn quadriceps injury that sidelined him for the second half of the 2021 NFL season, although head coach Kyle Shanahan believes the Notre Dame product should be ready for training camp. Earlier this week, PFF's Mike Renner conducted his offensive line rankings for 2022 with several tiers: Minor or no weaknesses(tier 1), high floor(tier 2), high-end potential(tier 3), at

PFF: 49ers QB Trey Lance one of players under most pressure to perform in Year 2
While there are several success stories of rookies flourishing immediately in the NFL, there are certain players, especially quarterbacks, whose learning curves require some more seasoning. Take Peyton Manning, who threw for 28 interceptions in his rookie year before becoming one of the best quarterbacks of all time, as an example. Earlier this week, PFF named ten players from the 2021 NFL Draft class that are under the most pressure to perform in Year 2, and unsurprisingly, San Francisco 49ers quarterback Trey Lance was amongst the group. Lance, who was selected third overall in the 2021 NFL Draft, played

49ers' Jimmy Garoppolo ranked as 25th-best deep-ball passer
After being subject to a number of trade rumors this offseason, San Francisco 49ers quarterback Jimmy Garoppolo remains a member of the organization, although the franchise has made it clear that they've attempted to move on from the veteran signal-caller. One of the reasons that San Francisco could be looking to move on is due to Garoppolo's inability to consistently complete deep passes, which has hindered the 49ers on several occasions, most notably during the 49ers' Super Bowl loss to the Kansas City Chiefs during the 2019 NFL season. Earlier this week, PFF ranked the 2021 starting quarterbacks' deep passing by various

Former NFL player compares 49ers' Trey Lance to Aaron Rodgers and Patrick Mahomes
San Francisco 49ers quarterback Trey Lance has started to attract serious attention from the media, as many analysts are coming on board with the 22-year-old's potential as he enters his second NFL season. During a recent appearance on NFL Total Access, former Green Bay Packers receiver James Jones continued the trend, going as far as comparing Lance to his former quarterback, Aaron Rodgers. "I believe we're looking at a bonafide superstar [in Lance], like Patrick Mahomes and Aaron Rodgers," Jones said. "We had a small sample size of Aaron Rodgers, but all you heard out of the locker room and the people around Aaron was, 'Just wait. You
Featured
Trending News
49ers Webzone • Jun 28

49ers Webzone • Jun 28

49ers Webzone • Jun 29

49ers Webzone • Jun 28

49ers Webzone • Jun 30

49ers Webzone • Jun 30