NFL picks against the spread, Wild Card weekend: Can the 49ers beat the Cowboys?
Jan 13, 2022 at 8:20 AM
•
--
Our NFL odds and picks against the spread for the 2022 Wild Card Weekend slate.
Facebook Comments
More San Francisco 49ers News

Sam Acho picks 49ers' Trey Lance as 2nd-year QB to make biggest jump in 2022
Last week, ESPN analyst Rob Ninkovich looked at the 2021 rookie quarterback class and stated he expects Trey Lance to make the "biggest jump" in Year 2. Another ESPN analyst, Sam Acho, agrees with that prediction. Why is Lance the best second-year quarterback, in Acho's opinion? It's because of the weapons around him. The 22-year-old quarterback will have wide receiver Deebo Samuel (assuming the offseason rift can be mended) and tight end George Kittle at his disposal. "Yes, there was a reason Zach Wilson was the second pick overall last year," Acho said. "There's a reason Trey Lance was third, right? Because he's that good as well." More critical for

Arik Armstead calls Warriors' championship 'inspiring,' hopes 49ers can replicate success
The San Francisco 49ers have come close to hoisting the franchise's sixth Vince Lombardi Trophy. They fell just short during the 2012 season, losing 34-31 to the Baltimore Ravens. Seven years later, they fell short again, collapsing in the fourth quarter of the Super Bowl and watching as the Kansas City Chiefs celebrated a championship. Last season, the 49ers were a play or two away from returning to sports' biggest stage, falling to the eventual Super Bowl champion Los Angeles Rams in the NFC title game. San Francisco can't get over the hump. On Monday, the Bay Area celebrated the Golden State Warriors' seventh championship as thousands of fans swarmed Market Street for the parade. It's an inspiring sight for the championship-hungry 49ers. "Yeah,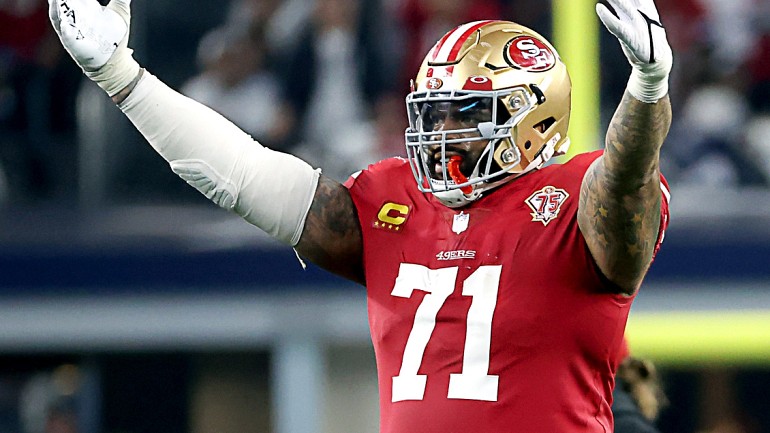 NFL analyst believes 49ers' offensive line has "high-end potential"
The San Francisco 49ers have faced some serious roster turnover with their offensive line, as left guard Laken Tomlinson went to the New York Jets in free agency, while center Alex Mack chose to retire after one season with the organization. In addition, right tackle Mike McGlinchey is coming off a torn quadriceps injury that sidelined him for the second half of the 2021 NFL season, although head coach Kyle Shanahan believes the Notre Dame product should be ready for training camp. Earlier this week, PFF's Mike Renner conducted his offensive line rankings for 2022 with several tiers: Minor or no weaknesses(tier 1), high floor(tier 2), high-end potential(tier 3), at

Former NFL player compares 49ers' Trey Lance to Aaron Rodgers and Patrick Mahomes
San Francisco 49ers quarterback Trey Lance has started to attract serious attention from the media, as many analysts are coming on board with the 22-year-old's potential as he enters his second NFL season. During a recent appearance on NFL Total Access, former Green Bay Packers receiver James Jones continued the trend, going as far as comparing Lance to his former quarterback, Aaron Rodgers. "I believe we're looking at a bonafide superstar [in Lance], like Patrick Mahomes and Aaron Rodgers," Jones said. "We had a small sample size of Aaron Rodgers, but all you heard out of the locker room and the people around Aaron was, 'Just wait. You
Featured
Trending News
49ers Webzone • Jun 28

49ers Webzone • Jun 28

49ers Webzone • Jun 29

49ers Webzone • Jun 28

49ers Webzone • Jun 30

49ers Webzone • Jun 30