Elijah Mitchell has quickly become one of Kyle Juszczyk's favorite teammates
Nov 11, 2021 at 8:02 PM
•
--
Facebook Comments
More San Francisco 49ers News

49ers sign TE Tyler Kroft to a one-year deal, waive DL Chris Slayton
According to his agent, the San Francisco 49ers are signing tight end Tyler Kroft to a one-year deal. The news was first spotted and reported by Adam Schefter of ESPN. The team will need to make a corresponding roster move to make room for the signing. Former Jets' and Bills' TE Tyler Kroft reached agreement on. A one-year deal with the SF 49ers, per his agent @MikeMcCartney7.— Adam Schefter (@AdamSchefter) May 23,

Peter King has 49ers at No. 10 in power rankings, predicts Garoppolo-Lance outcome
A year ago, Peter King of NBC Sports listed the San Francisco 49ers at No. 5 within his offseason power rankings. Head coach Kyle Shanahan's squad dropped five spots this offseason despite coming off an NFC Championship Game appearance. Why the drop from last year's position? For King, it has to do with some questions about the roster. Two of the most prominent offseason uncertainties can be found within the quarterback and wide receiver groups. While Jimmy Garoppolo helped guide the 49ers to their second NFC title appearance in three seasons, the team reportedly hopes to trade the veteran quarterback before Week 1. Whether they can or not remains to be seen.

Jerry Rice says Trey Lance 'has all the tools' to succeed with 49ers
Chris Simms lacks confidence in San Francisco 49ers quarterback Trey Lance. The NBC Sports analyst recently stated that he wouldn't have drafted the player had the decision been his to make. "I see the potential. I get it," Simms recently said on his podcast, Chris Simms Unbuttoned. "I'm just not sure it's going to all come together." Hall of Fame wide receiver Jerry Rice is less pessimistic about the second-year quarterback's future. The 49ers legend sat down with Lance and discussed the 22-year-old's potential to be great and lead the Bay Area team to success. "I knew Trey was going to be special from the first day I talked to him," Rice said during an interview for Boardroom (h/t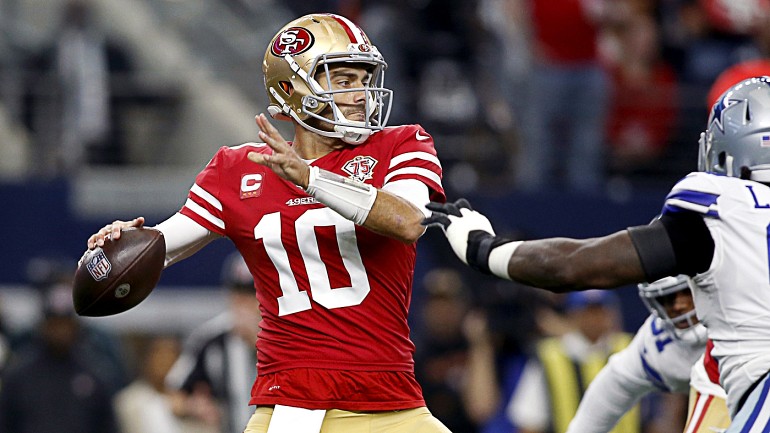 Kyle Shanahan still expects 49ers to trade Jimmy Garoppolo but it's 'not a guarantee'
San Francisco 49ers head coach Kyle Shanahan spoke with reporters for the first time since the draft. He stepped up to the podium after Tuesday's practice, the second of organized team activities. Of course, there was no shortage of reporters trying to pry quarterback information from the head coach, who did his best to limit his responses to such questions. That's likely because Shanahan knows how big of an offseason storyline the quarterback situation has become. Most expect second-year quarterback Trey Lance to be the starter, replacing veteran Jimmy Garoppolo. The 49ers hoped to trade Garoppolo by now, but the quarterback undergoing shoulder surgery on March 8 halted any trade talks. Shanahan has suggested that the 49ers would be willing to hold onto
Featured
Trending News
49ers Webzone • May 23

49ers Webzone • 9 hrs

49ers Webzone • 6 hrs

49ers Webzone • 10 hrs

49ers Webzone • 12 hrs

49ers Webzone • May 23