49ers roster moves: Jordan Matthews returns, 2 RBs released from practice squad
Oct 5, 2021 at 2:22 PM
•
--
The 49ers made a number of moves on their practice squad roster, including the addition of TE
Jordan Matthews
.
Facebook Comments
More San Francisco 49ers News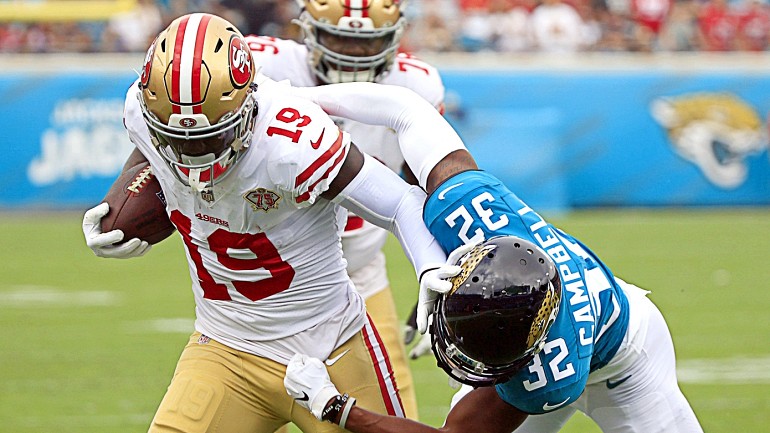 49ers roster: 3 positions that improved this offseason and 2 that are worse
Following their defeat to the Los Angeles Rams in the NFC Championship Game this offseason, the San Francisco 49ers sought to improve their roster with their available cap space, expecting a quarterback change for 2022. Fast-forward a couple of months and the 49ers now have a clearer picture of their 2022 team, which has experienced some significant roster turnover at certain positions. Which positions on the roster improved following free agency and the draft, and which got worse? Improved 1. Wide Receiver Despite rostering a

First look at 49ers rookies on the practice field
The San Francisco 49ers kicked off a three-day rookie minicamp this afternoon. It's the first time players from the team's latest draft class have been able to suit up and get on the practice field, including defensive lineman Drake Jackson, running back Ty Davis-Price, and wide receiver Danny Gray. David Lombardi of The Athletic shared some videos of the rookie draft class going through their first practice in red and gold. Rookie QB Brock Purdy in a 49ers uniform for the first time pic.twitter.com/NQnawclz62— David Lombardi (@LombardiHimself)

49ers rookie Danny Gray did this after dropping a deep pass during practice
Like many NFL players, rookie wide receiver Danny Gray strives for perfection. Unfortunately, no one can be perfect. For a quarterback, it's easy to dwell on that off-target throw. Maybe it's that football that slipped out of your grip for a running back. For a cornerback, that near-interception that bounced off your eager hands. For a wide receiver, it's that big-play throw that you couldn't haul in. That's what happened to Gray on Friday afternoon during the San Francisco 49ers' first practice of a three-day rookie minicamp. While others might try to push the slip-up out of their minds and focus on the next rep. Not Gray. According to Eric Branch of the San Francisco Chronicle, the rookie wideout fell to the ground and paid penance with 10

Will 49ers Jimmy Garoppolo practice once he's cleared?
Now that the Deebo Samuel drama is currently in hibernation, and the "Trey Lance isn't ready" tour has slowed some, Jimmy Garoppolo is back in the headlines. Not for any reason other than it's Jimmy Garoppolo. I know, I know. You're sick of hearing his name. Trust me. I'm sick of hearing it and spelling it. But until the San Francisco 49ers trade Garoppolo, name him the starter, declare that Lance is the starter or decree that the beginning of training camp will be the dawning of a new era in the 49ers' quarterback room, we will continue to hear about him. So until there is a mutual parting of the ways, writers will write about him, content creators will talk about him, reporters will continue to speculate, and the national media will continue to make things
Featured
Trending News
49ers Webzone • May 23

49ers Webzone • 9 hrs

49ers Webzone • 6 hrs

49ers Webzone • 9 hrs

49ers Webzone • 12 hrs

49ers Webzone • May 23