The good and not so good from the 49ers' loss to the Ravens.
Dec 1, 2019 at 4:20 PM
•
--
Here is the good and not so good from the 49ers' 20-17 loss to the Baltimore Ravens.
More San Francisco 49ers News
Raheem Mostert and Fred Warner discuss the sacrifices of not opting out of season
The San Francisco 49ers had their first player, wide receiver Travis Benjamin, opt-out of the 2020 season. It was a decision he felt was best for the health of himself and his family. In these challenging times, as the NFL navigates its way toward playing amidst a pandemic, no one can blame Benjamin. Linebacker Fred Warner spoke with reporters today via a video conference and discussed Benjamin's decision to forego the upcoming season. "I think it's just a unique situation," Warner explained. "At the end of the day, everybody wants to play football. I think even guys who do opt-out, their true intent is they want to play football, but they have to think about more than just themselves. "This coronavirus, there's so much unknown. Every day, I feel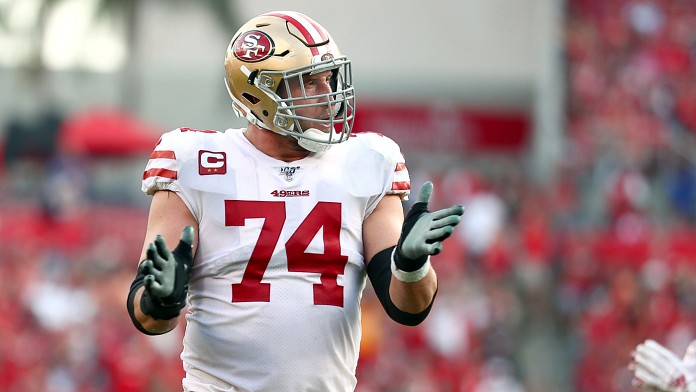 Former 49ers tackle Joe Staley shows off his weight loss since retirement
Joe Staley revealed to ESPN last month that he had lost 50 pounds since retiring. The former San Francisco 49ers offensive lineman recently shared the following photo of his new self on Instagram (h/t to Grant Cohn for the find). A slimmer @jstaley74 is enjoying life after football. It's always good to see the #49ers icon.
No news is good news for several 49ers returning from injuries
A Super Bowl contender could be getting even better this season. The San Francisco 49ers are receiving several reinforcements from last year's injury-depleted roster. Players entered the team's facilities this weekend after each underwent two COVID-19 tests and took part in physicals on Saturday. Sunday's lack of announcements bodes well for several players who missed all or part of last season. That is good news as the 49ers prepare to start training camp. All #49ers would've taken physicals by SAT and no additional
Featured
More Featured Stories
Trending News
49ers Webzone • Aug 13, 2020

49ers Webzone • Aug 13, 2020

49ers Webzone • 6 hrs ago

49ers Webzone • Aug 13, 2020

49ers Webzone • 7 hrs ago

49ers Webzone • 4 hrs ago
More News