Matt Breida, Joe Staley OUT, Robbie Gould ACTIVE vs. Ravens
Here's a look at who's in and who's out ahead of the Week 13 marquee matchup.
More San Francisco 49ers News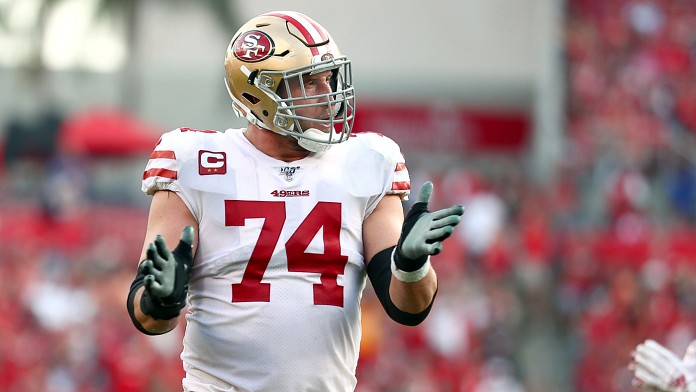 Former 49ers tackle Joe Staley shows off his weight loss since retirement
Joe Staley revealed to ESPN last month that he had lost 50 pounds since retiring. The former San Francisco 49ers offensive lineman recently shared the following photo of his new self on Instagram (h/t to Grant Cohn for the find). A slimmer @jstaley74 is enjoying life after football. It's always good to see the #49ers icon.
Joe Montana says Jimmy Garoppolo played 'pretty well' in Super Bowl, 49ers QB will be better without brace
San Francisco 49ers legend Joe Montana joined Good Morning Football on Wednesday morning and was asked about the current quarterback on his former team, Jimmy Garoppolo. He was explicitly asked about his thoughts on Garoppolo's performance in Super Bowl LIV against the Kansas City Chiefs. Garoppolo, of course, has shouldered much of the blame this offseason for the 49ers fourth-quarter collapse and ultimate defeat in that February matchup. A missed opportunity on a deep throw to Emmanuel Sanders fueled that criticism. That performance came after one of the more impressive seasons by a 49ers quarterback in franchise history. "I actually
Roster moves: D.J. Reed's season ends, Richie James taken off reserve/COVID-19 list, two activated, no 49ers opt out of season so far
San Francisco 49ers general manager John Lynch announced a few roster moves before a Monday afternoon press conference conducted via Zoom. One was the decision to place safety D.J. Reed on the reserve/non-football injury list, effectively ending his season. The versatile defensive back suffered a torn pectoral muscle in June. "That's a tough one for us," Lynch told reporters. "The earliest we might have had D.J. back was early November. It's a four-to-six-month injury, so that's been an active conversation Kyle and myself and the medical folks have been having. Ultimately, too difficult to keep a roster spot for something that may go into December. So we made that
Featured
More Featured Stories
Trending News
49ers Webzone • Aug 13, 2020

49ers Webzone • 11 hrs ago

49ers Webzone • 3 hrs ago

49ers Webzone • 12 hrs ago

49ers Webzone • 5 hrs ago

49ers Webzone • 9 hrs ago
More News