Joe Staley Nominated for 2019 Art Rooney Sportsmanship Award
For the fifth-consecutive year, Staley has been nominated for the award which recognizes players who exemplify outstanding sportsmanship on the field.
More San Francisco 49ers News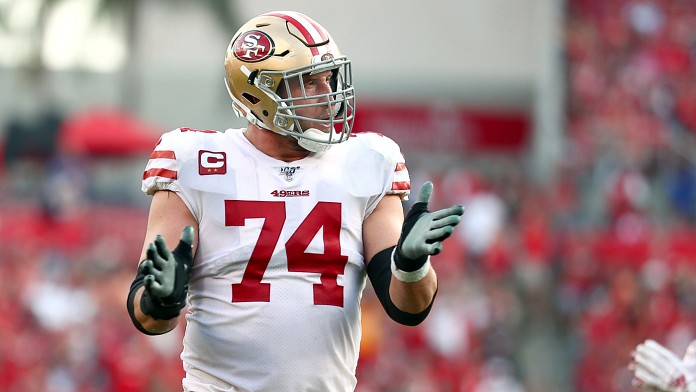 Former 49ers tackle Joe Staley shows off his weight loss since retirement
Joe Staley revealed to ESPN last month that he had lost 50 pounds since retiring. The former San Francisco 49ers offensive lineman recently shared the following photo of his new self on Instagram (h/t to Grant Cohn for the find). A slimmer @jstaley74 is enjoying life after football. It's always good to see the #49ers icon.
49ers' Jimmy Garoppolo offers self-evaluation of 'productive' 2019 season, ready to take the next step
San Francisco 49ers quarterback Jimmy Garoppolo had a pretty good statistical season last year. He passed for 3,978 yards — the fourth-most in franchise history, joining names like Steve Young and Jeff Garcia. That's not bad. He tossed 27 touchdowns through the air and added another on the ground, but also threw 13 interceptions. That's something to improve. Garoppolo guided the 49ers to 13 regular-season wins, a division championship, home-field advantage, and a playoff run that ended with a trip to the Super Bowl. Again, not bad. Yet, Garoppolo shouldered much of the blame for February's Super Bowl loss. Then the 49ers flirted with the idea of bringing in Tom Brady. Garoppolo knew that's just part of the
Featured
More Featured Stories
Trending News
49ers Webzone • Aug 8, 2020

49ers Webzone • Aug 7, 2020

49ers Webzone • Aug 7, 2020

49ers Webzone • Aug 8, 2020

49ers Webzone • Aug 7, 2020

Bleacher Report • Aug 7, 2020
More News