49ers: Without Ronald Blair, how much will Dee Ford play?
Nov 17, 2019 at 12:20 PM
•
--
Did the 49ers intend for Dee Ford to play 38 percent of their defensive snaps in their first nine games when they acquired the Pro Bowl pass-rusher for a second-round pick and signed him to a five-year, $85 million contract? The short answer: no.
More San Francisco 49ers News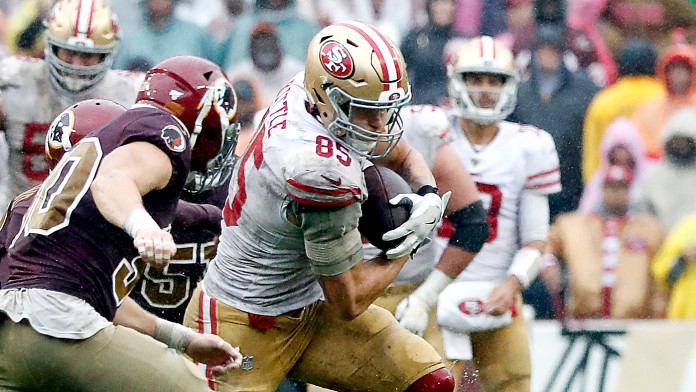 George Kittle excited to 'bury people' on the football field with or without fans in stadiums
George Kittle was a guest on the Pardon My Take podcast and discussed several topics during the 25-minute interview. The San Francisco 49ers tight end talked about Super Bowl LIV, his ranking in the NFL Top 100 Players of 2020, the genius of his head coach, Kyle Shanahan, his Joker tattoo, and, finally, potentially playing games this season without fans in the stands. Kittle knows things will be different this season, with the NFL trying to navigate its way through a pandemic. COVID-19 threatens to impact league revenues, future salary caps, and players' and coaches' health. Many NFL stadiums may prohibit fans from attending in accordance with local regulations. "I think it will be a challenge for everybody," Kittle said. With or without fans, Kittle
Joe Montana says Jimmy Garoppolo played 'pretty well' in Super Bowl, 49ers QB will be better without brace
San Francisco 49ers legend Joe Montana joined Good Morning Football on Wednesday morning and was asked about the current quarterback on his former team, Jimmy Garoppolo. He was explicitly asked about his thoughts on Garoppolo's performance in Super Bowl LIV against the Kansas City Chiefs. Garoppolo, of course, has shouldered much of the blame this offseason for the 49ers fourth-quarter collapse and ultimate defeat in that February matchup. A missed opportunity on a deep throw to Emmanuel Sanders fueled that criticism. That performance came after one of the more impressive seasons by a 49ers quarterback in franchise history. "I actually
Transcript: Jimmy Garoppolo discusses COVID-19, his play, Jerick McKinnon, 49ers additions, Tom Brady
San Francisco 49ers quarterback Jimmy Garoppolo spoke with reporters via a video conference call today, as the team begins training camp amid a pandemic. Here is everything he had to say. Transcript provided by the San Francisco 49ers Communications staff. It seemed like the 49ers doubled down on yards-after-the-catch guys in the Draft. And then just yesterday with TE Jordan Reed. I was wondering if that caught your eye also and what are your impressions of the new pass catchers that have been added to the mix this season? "Yeah, it's been a productive offseason, just you know, getting new guys, the guys that we've already had, working with them and even getting some guys back from injuries. So, it's a great group. It's
Featured
More Featured Stories
Trending News
49ers Webzone • 19 hrs ago

49ers Webzone • 18 hrs ago

49ers Webzone • 15 hrs ago

49ers Webzone • 21 hrs ago

49ers Webzone • 18 hrs ago

49ers Webzone • 18 hrs ago
More News