49ers Notebook: Kyle Nelson discusses suspension, and why you should temper Joe Staley hopes
49ers Notebook: Kyle Nelson discusses suspension, and why you should temper Joe Staley hopes
For the second-straight day, Joe Staley was back at 49ers practice, though he was limited and appeared to struggle more than he did on Wednesday, when he came through practice discernibly without issue.
More San Francisco 49ers News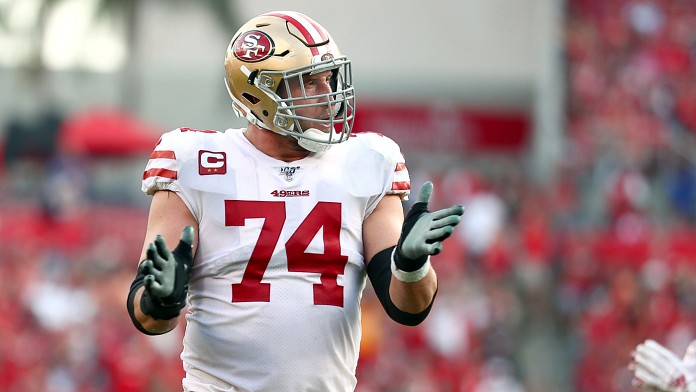 Former 49ers tackle Joe Staley shows off his weight loss since retirement
Joe Staley revealed to ESPN last month that he had lost 50 pounds since retiring. The former San Francisco 49ers offensive lineman recently shared the following photo of his new self on Instagram (h/t to Grant Cohn for the find). A slimmer @jstaley74 is enjoying life after football. It's always good to see the #49ers icon.
Mike McGlinchey hopes 49ers' team-first mentality will keep players safe from COVID-19
San Francisco 49ers star linebacker Fred Warner said last week that the team's strong locker room would be an advantage while fending off COVID-19. "I think we have one of the best locker rooms, one of the best groups of men in the whole NFL in our building," Warner told reporters via a video conference call. "I feel like everybody understands the situation and is willing to make the sacrifices needed." Warner noted that he has no plans to babysit any of his teammates. The players should already know the necessity to stay safe when they exit the 49ers facility. Offensive tackle Mike McGlinchey was asked about the team's mentality when
Steve Young explains how COVID-19 could impact 49ers' Super Bowl hopes
The San Francisco 49ers face an immense challenge in their quest to return to the Super Bowl and redeem themselves of February's crushing defeat against the Kansas City Chiefs. Not only is it arduous for the Super Bowl champions to return to the big game, but it is also more so the case for the Super Bowl runner-ups. Hall of Fame quarterback Steve Young recently shared why COVID-19 creates an even greater challenge for head coach Kyle Shanahan and his 49ers. NFL coaches have had a lot of time on their hands to watch the film and break down what San Francisco's innovative offense accomplished last season. "I'm sure that an incredible amount of time has been spent by 31 other coaches and staffs in the NFL to study (the 49ers)," Young told Matt Maiocco last week
Featured
More Featured Stories
Trending News
49ers Webzone • 20 hrs ago

49ers Webzone • 19 hrs ago

49ers Webzone • 16 hrs ago

49ers Webzone • 19 hrs ago

49ers Webzone • 19 hrs ago

49ers Webzone • 9 hrs ago
More News