49ers lose backup tackle Shon Coleman to significant right ankle injury
Aug 10, 2019 at 8:40 PM
•
--
SANTA CLARA -- Shon Coleman, the leading candidate to be the 49ers backup at both offensive tackle positions, sustained a serious injury to his right
More San Francisco 49ers News
O-lineman Shon Coleman becomes second 49ers player to opt-out of the 2020 season
The San Francisco 49ers lost swing tackle Shon Coleman to injury last preseason and will be without him again this year. The offensive lineman became the second Niners player to exercise the option to opt-out of the 2020 season as the NFL prepares to play amid a pandemic. Tom Pelissero of NFL Network reported the news. The deadline to opt-out of the upcoming season was today at 1 p.m. PT. One more before the deadline: #49ers OL Shon Coleman opted out of the 2020 season, per source.— Tom Pelissero (@TomPelissero)
Mike Silver reports a 'pretty significant disconnect' on contract negotiations between 49ers and George Kittle
The San Francisco 49ers are hoping to sign tight end George Kittle to a long-term extension. The two sides don't sound as though they are very close in the negotiation process, however. NFL insider Ian Rapoport reported earlier this week that the 49ers and Kittle's camp are not "particularly close on anything." Mike Silver of NFL Network seems to be hearing the same thing and on Friday provided an update on Kittle's contract situation. "There remains a pretty significant disconnect philosophically between the 49ers and George Kittle's camp. The 49ers believe they want to reset the tight end market and give him a great tight end deal.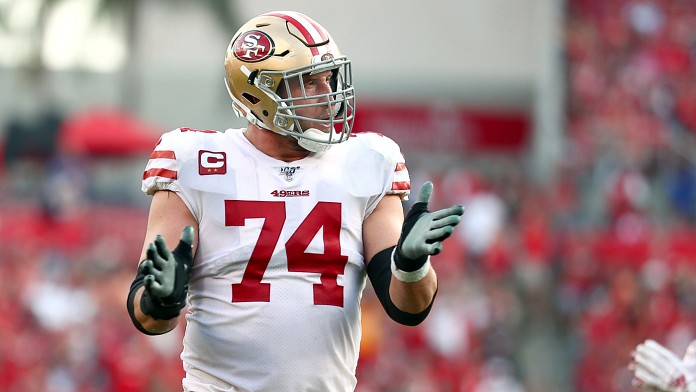 Former 49ers tackle Joe Staley shows off his weight loss since retirement
Joe Staley revealed to ESPN last month that he had lost 50 pounds since retiring. The former San Francisco 49ers offensive lineman recently shared the following photo of his new self on Instagram (h/t to Grant Cohn for the find). A slimmer @jstaley74 is enjoying life after football. It's always good to see the #49ers icon.
Featured
More Featured Stories
Trending News
49ers Webzone • Aug 10, 2020

49ers Webzone • 21 hrs ago

49ers Webzone • 16 hrs ago

The Mercury News • Aug 11, 2020

49ers Webzone • 16 hrs ago

Pro Football Talk • 21 hrs ago
More News